On Friday, Feb. 2, the Black Student Association (BSA) hosted UMOJA: A Celebration of Black Culture. Held in McGuire Hall, the electric night united students all across campus and the surrounding Baltimore area, which is fitting for the event as the word "UMOJA" means "unity."
Before the event commenced, the letters "FUBU" flashed across the main projection screen, denoting a phrase adopted by the African American community that means "For Us By Us." From unabashed declarations of identity to stirring performances, the celebration was proudly by persons of color, and more importantly, for persons of color.
The night kicked off with an invigorating set by the Step Team. Though the group has only been performing for two years, they looked like veterans to the stage. With evocative and rhythmic moves, the group oozed a certain confidence that set the mood for a night that was brimming with self-pride.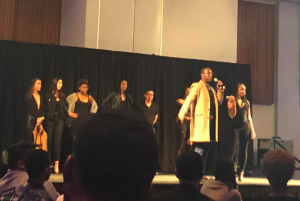 Attendees enjoyed full, delectable dishes of soul food. Before eating, the Rev. Scott Adams blessed the food, and, in a simple yet poignant moment, told everyone to look to their neighbor and say the words "I am because we are."
Emcees Sterling Franklin '19 and Kassina Dwyer '19 then introduced Black Chakra, a slam poet from the Baltimore area, who performed a few pieces that fit well into the atmosphere of the night. In one, he spoke about the empowerment of his heritage through emphatic rhymes that inspired the audience to wear that pride in their daily lives.
In another, Black Chakra performed an ode to "Empire" star Taraji P. Hensen, and by extension, an appreciation and love for black women at large. This message was shared in the female perspective by fellow poet Lady Brion, whose "Black Girl Beautiful" talked about body positivity.
According to BSA Vice President Cierra Thurmond '20, "We chose performers who we felt would be honest and truly show black pride and I think it led to a great turn out."
That pride carried on in female rapper Neptune's set, which increased the energy in McGuire Hall. She was running around the tables and eventually closed her set with a song called "Breathe," which was a call for self-care.
Later on, the wonderfully named Meccamorphosis performed, touching on the importance of intersectional feminism in one poem, noting how often the black woman's voice is forgotten in discourse that calls for change.
This sentiment is not lost on BSA, as the group made the theme for this year's Black History Month "We're Still Here."
"We chose the theme because after the past couple years of police brutality killings and the presidential election, we felt it was imperative to let people know we are still here, despite everything we've been through," Thurmond said. "We go to Loyola, we eat in Boulder, we are in your classrooms and dorm halls. We're still here."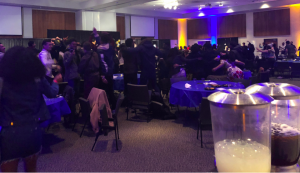 Perhaps no moment more encapsulated the confidence of the night than the Fashion Show preview. Presented by Antwon Allen '20, Co-Director of the Fashion Show and Event Coordinator of BSA, the sneak peek featured fierce struts from the models and showed what audiences can expect from the event, which will be held on March 16.
"I'm most excited for people to witness the vision that the directors and scene leaders have created for this show," Allen said. "We are incorporating many aspects of what it means to be a person of color. From scenes about evolution, social justice, womanism, and diversity, we are tackling issues and embracing black culture."
For the 20th anniversary of the Fashion Show, the theme #ForTheCulture was chosen.
"We figured it was only right we make this show as extraordinary as possible and do it for the culture," Allen said.
Once audiences thought that UMOJA could not get any better, rap group the Creek Boyz entered with a burst of energy that had every table on their feet. Performing "With My Team," the Creek Boyz electrified the room with an energetic flow that highlighted just how special this night was.
The evening concluded with several awards given to students and faculty members who have demonstrated strong support and dedication to the BSA.
UMOJA is one of several important opportunities offered by the BSA at Loyola for persons of color to gather and celebrate their identities, especially in a world so ready to dismiss them.
"The black community is overlooked on Loyola's campus. Our voices are often silenced in order to appease other students." Thurmond said. "These celebrations are our way to get together and acknowledge one another."
Even though she was running around for much of the night, Thurmond knew it was a success.
"I could feel an immediate sense of community among everyone, and that's what we strive for," she said.
All Photos Courtesy of Matty Brown