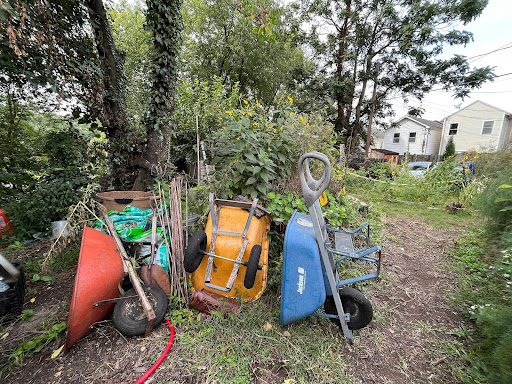 The Baltimore Free Farm is a grassroots organization supported by Fusion Partnerships, a non-profit focused on providing fiscal sponsorship and other forms of support for Baltimore community projects and programs. But what does the farm do? 
The Baltimore Free Farm is a collective of gardeners and activists. The group provides housing for a portion of its members, manages a public community garden, and collaborates with food redistribution programs in the area. Located primarily on Ash Street, members have operated on the outskirts of Hampden for close to fifteen years now.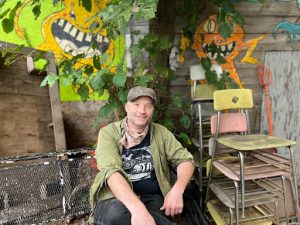 "It's not just one thing. It's people who want to do food networking, it's people who want to do food rescue, it's people who want to do gardening," said Ian McDonald, a member of the collective.
At its inception, the collective looked a lot different. 
The idea for the Baltimore Free Farm began after the financial crisis of 2008. A group of laid-off workers began squatting in dilapidated houses on the edge of Hampden. At this time, Ash Street was trash-strewn and overgrown. However, the new residents made clean-up efforts, transforming empty lots into an urban garden. Over the years and through various crises, the Baltimore Free Farm grew into a collective that was able to acquire property on the street used to host events and build the foundation of their intentional living community. 
"It was really lucky. If you re-rolled all the dice with the same people… would it have worked out? Quite possibly not," McDonald said. 
From entertainment events to community networking, most Baltimore Free Farm partnered activities used to take place in their warehouse. Post-pandemic, the collective has faced organizational challenges. Access to the warehouse for events is difficult, the volunteer-pool is shrinking, and adequate funding is hard to acquire. However, the farm still works with Baltimore's branches of Food Not Bombs and Food Rescue to recover and redistribute food, sending surplus from local donations or commercial kitchens to those in need. 
Baltimore Free Farm has given McDonald all sorts of purpose in life. He describes how the collective has not only taught him handyman skills, but stronger interpersonal relationship skills as well. 
"The thing that is the most valuable is figuring out 'how do we get along with each other?' Trying to… and building trust with others that are trying to. The reason the relationship with my partner exists is because we're united by this ideal, the actuality of trying to be the best person you can to the community around us," he said.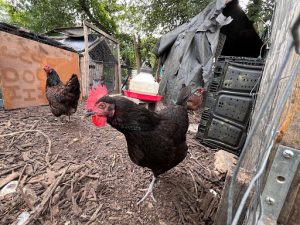 In a post-pandemic world, it has become increasingly challenging for the Baltimore Free Farm to perform at the same level as before. McDonald hopes to see more activity as the collective gets back on its feet, be that with a stronger social media presence to increase their volunteer pool or forming a residency program with their housing organization. 
"I want to re-establish ourselves as a neighborhood presence. Rebuild relationships with neighbors. Be more proactive. Be the best presence we can for them," said McDonald. 
One Saturday each month, the Baltimore Free Farm hosts a volunteer day, in which you can get involved and meet others in the community with similar values. More scheduling information can be found on their website, https://www.baltimorefreefarm.org/. To get in touch, contact the collective through their email, [email protected].