170th Commencement Ceremony Honors the Class of 2023 in Gracious Fashion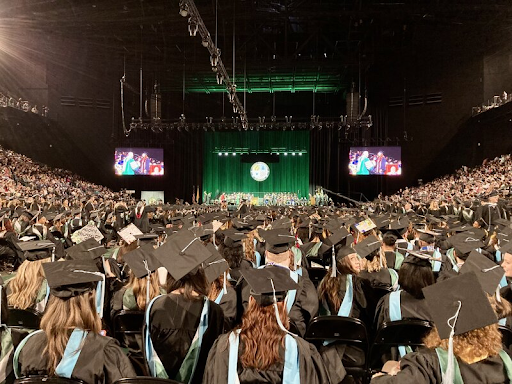 CFG Bank Arena was charmingly transformed and covered in green and grey for Loyola University Maryland's 170th Commencement Exercises on Saturday, May 20. Family, friends, and members of the Loyola community gathered in downtown Baltimore to honor the class of 2023. Several other events led to the celebration, including the Student Government Association's Senior Soirée, the Departmental Medals and Award Ceremony, and the annual Baccalaureate Mass. But on Saturday, the arena was buzzing with pride, anticipation, and joy as graduates savored their final moments as Loyola students.
The exercises began with the presentation of awards to special guests who uniquely uphold the Jesuit values in their everyday lives. Sisters Academy of Baltimore received the Milch Community Partnership Award and Curtis J. Wilson, Jr. posthumously received the Newman Medal. Additionally, Kelly Bryan Rizzo, '98, received the Carroll Medal while James D. Forbes, '80 received the President's Medal and a doctor of commercial science.
Chris Lowney was also presented with a doctor of humane letters from Loyola and was chosen to be this year's Commencement speaker. Lowney, a graduate of fellow Jesuit institution, Fordham University, is a renowned author, philanthropist, and public speaker who combines his Ignatian spirituality and leadership expertise in his work. 
His commencement address focused on three lessons he learned from his father; "You show up for those you love, you make sacrifices for those with you, and you welcome life for what it brings with gratitude." As he mentioned, each of these anecdotes translate to core values of the Loyola education. Lowney's words offered inspiring insight for the class of 2023 as they prepare to take the next step in their careers.
Bachelor's, master's, and doctoral degrees and honors were then awarded to approximately 1,200 graduating Greyhounds. Students of Loyola College of Arts and Sciences, the School of Education, and the Joseph A. Sellinger S.J., School of Business and Management proudly walked across the stage and were individually recognized for their academic achievements.
Albert Kang '23 was chosen to give the student address to his fellow classmates. Kang graduated with a Bachelor of Business Administration with a dual concentration in Finance & Information Systems and Data Analytics. His speech reflected on his own Loyola experience while crediting the resiliency this class has shown while faced with the unusual challenges that came with the COVID-19 pandemic.
"Loyola has readied us for whatever the world has in store and has helped us discover the fire that's within every single one of us," Kang said, referencing St. Ignatius's famed quote. "It has nurtured this fire throughout our time here and with this inner fire now ablaze, we're ready to go forth and set the world on fire."
The final remarks came from Terrence M. Sawyer, J.D., president of the university, who also thanked the graduates for remaining hopeful and having faith in Loyola during unprecedented times. He ensured that this ambition and optimism will lead the students to even greater success in their next steps. Finally, President Sawyer focused on the element of gratitude in his address, as did many of the preceding speakers. 
While reminding each student to approach their life with gratefulness, he also expressed his own appreciation for the class of 2023, calling them "a gift to our Loyola family".
"We are a stronger university because of you," he said. "As I look at all of you today wearing your caps and gowns, poised for an incredible and beautiful future, I know that you've given us so much and just know that I am grateful." 
With the help of the crowd, President Sawyer closed his speech with his now-iconic phrase, "God Bless and Go Hounds."
For those who missed it, you can watch the ceremony in its entirety on YouTube.
The Greyhound would like to extend our best wishes to the class of 2023, with a special shoutout to all of our graduating writers, photographers, and contributors. To our section editors, Rebecca, Peter, Genevieve, Jeffrey, Jimmy, Hannah, and Erin; thank you for all of your hard work over these last four years. We'd also like to especially highlight our managing editor, Carly, and our editor-in-chief, April, for their leadership, passion, and dedication to the team.
We wish you all the best of luck in your future endeavors!
Leave a Comment