Merriweather Post Pavilion in Columbia, Maryland transformed into a vibrant hub of music and culture as the annual All Things Go festival took center stage this past weekend. This is the first year in the independent festival's history that it expanded over multiple days and was completely sold out. With headliners Lana Del Rey, Maggie Rogers, boygenius, and Carly Rae Jepsen, All Things Go showcased a strong women-led bill.
The festival emerged in 2014 as All Things Go Fall Classic and previously took place at Union Market in Washington, DC. Now dubbed "DC's music festival," All Things Go has grown exponentially and moved to its current location on the outskirts of DC and Baltimore in 2021. 
Liz Mezzina '24 had a very positive experience at All Things Go, appreciating the consistently nice weather and the lack of rain, a contrast to the past two years. Mezzina, along with Brigid McCarthy '24, enjoyed seeing the diverse array of musical acts with their groups of friends. McCarthy's favorite bands at the festival were Peach Pit, a Canadian rock group who also made an appearance last year, and Dayglow. Mezzina was most enthralled by Lana Del Rey. 
"I was most excited to see Lana Del Slay. She lived up to every expectation. It was such a phenomenal show. I just wish she didn't come late so she could finish her entire set," Mezzina said. 
Mezzina and McCarthy both dubbed Jack Antonoff's performance of "Margaret" and "Venice Bitch" with Del Rey as the most surprising moment of the festival. Antonoff performed at All Things Go last year with his band Bleachers, and his return to the stage during Sunday's final set left the audience buzzing with excitement.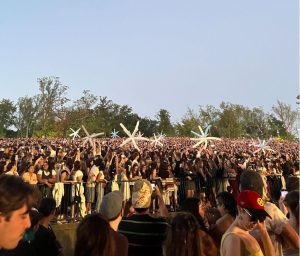 "When Lana brought out Jack Antonoff, I collapsed to the ground, I was physically unwell, I started crying. It was insane. Never in my life have I felt that way before," Mezzina said. 
McCarthy praised Maggie Rogers' performance and admired her ability to have fun on stage. A heartwarming moment occurred when Rogers, a Maryland native from the eastern shore, expressed her excitement about performing at Merriweather after growing up attending shows at the venue. 
The two Loyola seniors also noted that they have enjoyed going to the festival every year because of the exposure it gives them to new artists. Mezzina and Bethlehem Eshetu '24 were both unfamiliar with indie pop band MUNA, but now are planning on adding them into their music rotations. Other artists who proved to be crowd favorites were boygenius, Leith Ross, Ethel Cain, and Lizzy McAlpine. 
Although the musical performances received high praise, several attendees encountered logistical and scheduling issues at All Things Go. As Mezzina previously mentioned, technical difficulties plagued numerous acts, causing delays that resulted in shorter sets than initially promised.
"The bass during Lizzy [McAlpine]'s set was so loud and it took over all of her songs. So I couldn't really hear her, all I could hear was the bass, which sucked. And the same thing happened to Peach Pit," Eshetu said.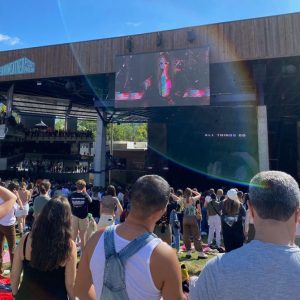 McCarthy took issue with the scheduling and placement of certain artists on the two days. Saturday and Sunday had very different headliners, with Sunday being more intense and crowded due to the popularity of Lana Del Rey and boygenius. These two acts were both placed on the Pavilion stage at Merriweather, with smaller acts not getting as much support at the Chrysalis stage. 
"We had a really good spot to see the headliners on Saturday, but on Sunday that was not even possible. It was frustrating that people didn't really go see the small acts or anyone else on the Chrysalis stage. I feel like that was the vibe on Saturday and last year–where everyone went back and forth. On Sunday everyone just camped out at the Pavilion stage and that was frustrating to me because there was no movement," McCarthy said. 
Eshetu also expressed disappointment that headliner boygenius performed at the same time as Alex G, who she intended on seeing, but not over boygenius. Since most people choose to see the headliners, this scheduling choice did not allow smaller artists to maximize their attendance and exposure. 
In spite of these challenges, All Things Go 2023 undoubtedly left a lasting impression on attendees. With anticipation for next year already building on the festival's social media, All Things Go continues to be a testament to the enduring magic of live music.