Public Relations CEO and Loyola Alum Peter Stanton Reflects on how Loyola Helped Launch his Career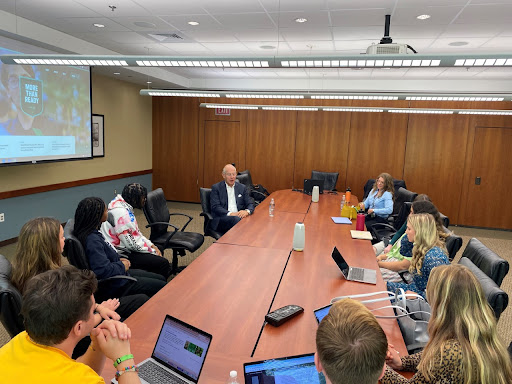 On a visit sponsored by The Public Relations Student Society of America (PRSSA), Peter Stanton came to the campus of Loyola University Maryland. Stanton is the CEO of Stanton Communications and also a Loyola University Maryland alumnus of '74, '79. 
During his visit to Loyola's campus, he discussed how the school has guided him to become successful in the PR world, and let students know that he believes that they can accomplish many things because of their passion.
"You all are the energized generation. I say this because I think the label GenZ is borderline insulting. It doesn't say a thing about your creativity, passion, intellect, or your energy and I truly believe everyone from this current generation is energized to do great things. I think you all have a determination to make a better world," he said. Stanton also discussed his experiences at Loyola that helped prepare him for the working world. 
"I learned the importance of listening while here at Loyola. Before you can take action in the business world we have to understand what our clients are telling us and we have to understand what the media is reporting. Without that listening aspect then we would just be making it up as we go along," Stanton said. 
One of Stanton's biggest contracts that he talked about was when his communications firm was hired to organize press coverage for the Pope visiting a New York elementary school. There were many security and safety concerns that the Secret Service had prior to the event and didn't think it was possible for the event to take place. 
"There was this wonderful experience between the Pope and these students because we were able to have a conversation; a problematic dialogue with the secret service," Stanton said. "They knew that we understood their protocols and we weren't trying to be disrespectful and the church wanted this visit to happen."
Other major campaigns that Stanton was involved in included:
The thrombosis campaign launched in 2014 by the International Society on Thrombosis and Haemostasis. This day was dedicated to increasing public, healthcare professionals and healthcare systems' awareness of thrombosis and, ultimately, to reduce deaths and disabilities from the disease. 

The Maryland Live Casino and Sportsbook campaign. Live! Casino & Hotel Maryland is the state's top tourist destination, attracting more than 10 million visitors annually. Stanton's nearly 10-year partnership with the property has generated millions of local and national media impressions through hundreds of targeted campaigns. The goal of the grand opening campaign was to establish Live! as the most visible thought leader for gaming and sports betting in Maryland and to position Live! FanDuel sportsbook as the most immersive and fan-focused sports betting operation.

The Veterans and digital future campaign focus on developing the delivery of world-class technology solutions to our nation's Veterans. Stanton is recognized for its media counsel and strategic, results-oriented public relations campaigns. Stanton was well-positioned to meet those goals through strategic media relations, social media engagement, and the Department's monthly newsletter. As a result, this veterans campaign to support an influx of Veterans needing video telehealth appointments, 
The Loyola alum mentioned that when he walked around the campus it was almost unrecognizable from when he attended here; with so many new things present in the college. 
"There are many new buildings and new places to gather together around campus. When I was going here there was only one actual place to hang out and it was a lounge area," Stanton said. "But now there is so much expression around campus, there is art on the walls and tables. Not only that, but the diversity on campus really is clear from the different offices, organizations and cultural groups spread all across campus."
Stanton believes that you should take advantage of all the resources that your college offers to you. He said college is what you make it so it's beneficial to put yourself out there.
"You get to expose yourself to everything while you're in college and you're able to be a sponge and learn. It's not just about what you learn in the classroom but also about what you learn from other people," he said. "Have confidence and be brave. It's easy at a young age to be intimidated and we fear that it's very hard to make a first impression. But draw on everything you have in your intellect, personality, in your internal constitution and most of all this awesome education and what brought you to this place."
Leave a Comment