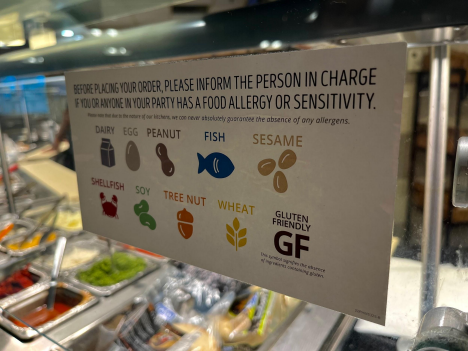 The Food Allergy Awareness and Advocacy Program co-leader Kiliane Gateau '24 didn't have many dietary restrictions growing up. However, an allergy emergency changed her life. 
"During my childhood, I didn't have any dietary restrictions and had the freedom to consume any food of my choice… a few years ago, after eating an M&M cookie, I experienced difficulty breathing. I was immediately taken to the emergency room where I was diagnosed with anaphylaxis shock, a life-threatening allergic reaction," Gateau said. 
After the incident, Gateau discovered that she had a peanut allergy and would need to carry an EpiPen at all times. Now, she works with the Food Allergy Awareness and Advocacy Program. Here at Loyola, the program is finding ways to help other students with allergies feel safe and comfortable eating on campus. 
The club is comprised of students who are personally affected by allergies. Another student and club leader, Michaela Chambers '25, has had food allergies since she was born. For young children, food allergies can be confusing and scary. But Chambers was determined to help others with allergies feel safer in their environment. 
"I have had multiple severe food allergies ever since I was little. Currently, I am allergic to eggs, peanuts, tree nuts, sesame, and legumes," Chambers said. 
Her allergies have also affected her eating habits, and she has to be careful with her meals.
"I don't eat out too much and only eat foods from companies I know are reliable and safe. I also cook my own meals," she said.
Chambers and Gateau's experiences of having to adopt a cautious attitude towards food inspired the two to work with the Allergy Awareness Club. The Food Allergy Awareness and Advocacy Program is currently run by Chambers and her co-leaders, Patrick Turek '25 and Gateau.
"Although we have made some headway through our initiatives, I think all three of us can agree that there is more work needing to be done and more ways that we can work through student voices to make campus a safer place," Chambers said. 
The club is constantly exploring ways to make campus safer for students with allergies. One concern is EpiPen training. 
"There are not enough people trained in EpiPen administration on campus. The nurses are, but Campus Police and RAs are not. We think students with food allergies would benefit greatly from having more people on campus to help them if they need it," said Chambers.
Another concern is cross-contamination in the dining halls.
 "We are working with dining, but also in hopes to eliminate cross contamination concerns in food preparation and serving and have more food labeling transparency in the dining halls," Chambers explained. 
Gateau also expressed her concerns with potential cross-contamination.
 "Some students I have met during our meetings have reported…experiencing allergic reactions after consuming food from Boulder, even in the designated 'Allergy-Free Zone.' This is…concerning," Gateau said.
The club had the chance to meet with President Sawyer and Dining Services to discuss ways to improve accessibility across campus. 
 "Dining specifically has talked about implementing digital signage with a key to help students identify the allergens that are or may be present in meals. They're looking to implement this at the self-serve stations too," said Chambers.
Through the leaders' work and collaboration with Loyola, steps are being taken in the right direction to ensure allergy safety and awareness on campus. Chambers and Gateau both expressed that while more needs to be accomplished in order to ensure safety for all students with dietary restrictions, the club is working hard  to make sure it happens. 
For any student looking for more resources regarding allergy awareness and safety, the Food Allergy Awareness and Advocacy Program meets once a month and is a space for students to receive updates on their advocacy progress and have discussions about where to go next.