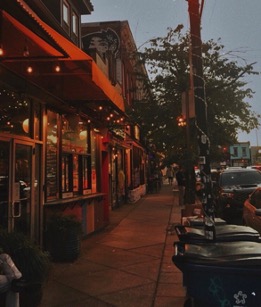 Apple and Pumpkin Picking
Looking for the crisp fruits of the fall season? Just want some apple cider doughnuts? Trying to find something with all of the fall feels? 
Try apple and pumpkin picking! Maryland boasts some of the most beautiful orchards, perfect for a day out. While some farms are a bit of a drive, there are a handful nearby. Pick your fall favorites at Weber's Cider Mill Farm, Butler's Orchard, Lohr's Orchard, Baugher's Orchard, or Shaw Orchards. 
Many of these farms have their own markets as well. If you don't want to get out in the orchard, you can visit the farm stands and sample some of the fall produce.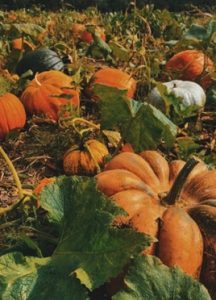 The market at Lohr's is just another great part of their seasonal offerings. 
"During the fruit and vegetable season, we have both a 'pick-your-own' and a retail farm stand operation. Our retail store is open daily July through January.  Our farm stand is open daily during our October fall events," Lohr's Orchard's website said. 
Apples are perfect for fall snacks, baking, or can be enjoyed directly off the tree. If you are looking for a day out, grab your friends and visit some of Baltimore's best orchards.

Fall Festivals
Don't let the name of Summer's Farm fool you–from the start of Sept. to the end of Oct., the farm puts on fall fun all season. The farm offers their signature corn maze, farm fresh food, and evenings around the campfire where you can rent your own pit. 
On Oct. 28, Bark Social is hosting their very own fall fest. Whether you bring your own dog or are just there as a pet enthusiast, the festival will have plenty of activities. Activities include pumpkin calligraphy, pie eating contest for dogs and humans, pumpkin ring toss, games, and much more! 
"Dogs can be dogs, and people can be people," Bark Social's website said.
The festival is a place where dog owners and dogs can spend time together in a unique way. Jillian Robney, a dog lover and owner, has loved Bark Social's events in any season. 
"The people at Bark Social genuinely love dogs and their commitment to providing a safe and fun environment makes this an exceptional spot for my pup and I. I've been spoiled having Bark Social close by and our daily visits are the highlight of our day," Robney said.
The festival is one of the many events that the social runs year-round. The festival will run from 10 a.m. to 5 p.m..
Fall Foliage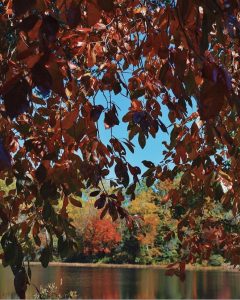 Looking for a perfect picnic spot? Enjoy the fall foliage at one of Baltimore's many parks. Visit the iconic Druid Hill Park for views of the changing leaves as well as the cityscape. Take a walk through Patterson Park and pet dogs at the park or visit the famous Observatory. 
If you want to immerse yourself in nature, try one of the many hiking trails just outside of the city. Jones Falls Trail offers a ten-mile hike tucked away in the city. But you won't feel like you're in the city at all under the cover of the newly changing trees. Head to Loch Raven Reservoir for more wildlife, and enjoy the scenic views around the water. 

Spooky Festivities
If you're feeling brave, Baltimore's roster for Halloween activities might be something to check out. 
With Baltimore being Edgar Allen Poe's final resting place, the city sets the perfect atmosphere for spooky season. Visit The Horse You Came in On Saloon, which is famously known as the last place Poe was seen before his death. Located in Fell's Point, visitors can hit the shops and visit the saloon. 
Get to know the spirits of Baltimore with a ghost tour. Rumor has it that ghosts haunt the historic streets of Fell's Point. Tales of sailors that went missing years ago linger on the streets. Take a tour with Baltimore Ghost Tours. Guests that have taken the tours say it's a great way to experience Baltimore's history.
"This was a great way to kick off our weekend, giving my friends and I an opportunity to see historic Fells Point and learn new fun facts about the city. Our tour guide was enthusiastic and theatrical, which made the experience enjoyable." McKenzie R. on Tripadvisor said.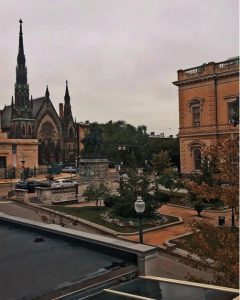 Walk the Mount Vernon Ghostwalk, and stroll along the gothic architecture. Or, try the Fell's Point Haunted Pub Walk and enjoy some spirits while looking for spirits, perfect for guests 21 and older!
If you want to take a self guided tour, you can visit some of Baltimore's notoriously haunted sites. The Lord Baltimore Hotel has reportedly had its own paranormal activity, with guests reporting seeing various spirits, including a young girl named 'Molly.'
The Admiral Fell Inn has hosted sailors from years long past, and guests of the present say that some have never checked out. Guests can check in, or arrange for a ghost tour on several of the historical sites on the grounds. 
Haunted Rooms America, a site that acts as a database for haunted spaces in the U.S., recommended Room 413. Check in if you want to experience some serious haunts. The room witnessed a murder in 1999, and some of the hotel staff have experienced alleged paranormal activity after that. 
"Some of the hotel's housekeepers often get a strange feeling when they clean the room, and others refuse to go in it at all. Some feel a breeze or a hand resting on their shoulder. Others have experienced sudden cold spots and shadows darting around the room." Haunted Rooms website said. 
Want something less spine chilling? Hampden hosts a variety of Halloween events throughout the season. 
Head to Golden West Cafe for Shocktail Hour with Aurora Gorealis. On Friday Oct. 20, participate in the Tournament of Terror and play games with prizes and enjoy seasonal treats. Spin the Wheel of Misfortune and play games like The Vincent Price is Right. Get your tickets here. *Event is for guests 21 and older, please drink responsibly.
Visit Hampden for their annual Halloweenfest. Participate in the costume contest with categories such as prettiest, funniest, and most original. The contest is welcome to all age groups with prizes for each. Come in costume to be a spectator on the street. Get your costumes ready for Oct. 31, walk the streets of Hampden and head to the costume contest at 6:30 p.m.!
Whether you are looking for cheap fall fun, heading to a farm, or wanting some Halloween festivities, Baltimore has plenty of happenings throughout the season.