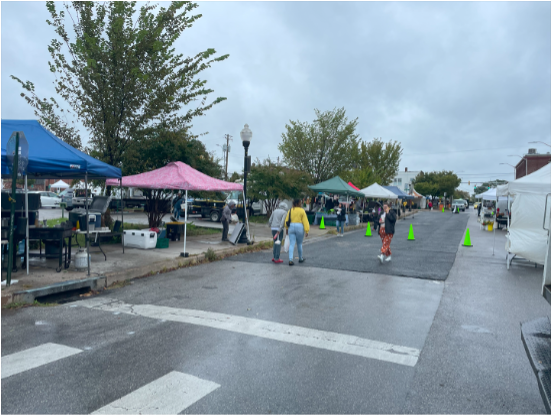 On Saturday mornings, rain or shine, the place to be is the 32nd Street Farmers Market. The market has a wide variety of products, ranging from local produce to homemade foods created by vendors. The local community continues to show up to support the vendors. The dedicated community is what convinced Donavan Silva, the manager of a popular restaurant called Ekiben, to sell his food at the farmers market.  
"Baltimore is big enough for us to continue on and to just focus more on impacting the community here. I also just love seeing people back and sometimes this makes your rainy day, your comfort food, and I'm always happy to provide it," Silva said. 
Ekiben started selling their food at the 32nd Street Farmers Market this year, but they are well known in the Baltimore area for their Asian fusion cuisine. After traveling to different farmers markets like Fells Point Farmers Market and The Baltimores' Farmer Market, they thought they would try the 32nd Street Farmers Market, where they have found success.
Ekiben tries to source its ingredients from local farms, although certain items such as mangoes are not readily available in-season from local suppliers. Nevertheless, they remain committed to purchasing produce such as cilantro from local vendors. Supporting local suppliers is a shared value among businesses like Doppio Pasticceria, a Sicilian bakery.
"We get tons of produce at the markets around here and the produce vendor that delivers to us is the Lancaster Farm Fresh, a co-op up in Lancaster; it's mostly Amish and Mennonites. The majority is coming from the Mid-Atlantic. All the grain is from Pennsylvania. We mill it all ourselves and we really focus on that." said Luke Ilardo, a partner in Doppio Pasticceria.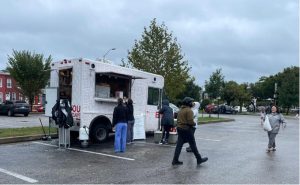 Ilardo has always had a passion for cooking, starting at his father's pizzeria. He grew up going to the 32nd Street Farmers Market and has always loved how open and welcoming the community has always been. Since Ilardo already had a connection with the market, he wanted to join as a vendor. Doppio Pasticceria enjoys helping local and small farms and businesses. 
Atwater's food company is another vendor who enjoys being a part of the 32nd Street Farmers Market. The company itself is 25 years old and was started by Ned Atwaters. He was adamant on selling at Waverly, another farmers market, and the 32nd Street Farmers Market. Atwater's has been selling sourdough since 1999. They have always enjoyed using local produce to make their food. 
Jasmine Artis, one of the pastry chefs and racketeers for Atwater's food, helps run the stand and emphasizes their founder's passion for using local ingredients. 
"Ned Atwaters really wanted to bring a natural organic sourdough and that was the first loaf we sold then [we] moved onto different flavors and varieties of sourdoughs. We use local produce and most of our ingredients are organic, fruits are from local vendors as well as the bread ingredients." Artis said.
Not only are the vendors happy that people come out to buy food, but they enjoy getting to see the market become a popular place to go in the fall.
"Autumn with the nice breeze, and that's when the farmers market is packed and everyone is there because they want to show off their clothes and the scenery. It's amazing," Artis said. 
Compared to the normal 67 vendors, there were about 27 vendors. No matter what, the community shows up to support even during the windy, cold, and rainy days.
Ways to the 32nd Street Farmers Market include driving, walking, and taking the bus. Driving can take about seven to 10 minutes from Loyola's campus. When taking the bus, it would take about 17-20 minutes. Taking public transportation requires walking to the closest bus stop located at York Road & Winston Ave sb. Then take the City Link Red to Greenmount Ave & 32nd ST sb where a three minute walk will get you to the 32nd Street Farmers Market. 
To learn more about upcoming markets visit their website.