Baltimore is a great city with a diverse history, interesting culture, and of course, some amazing restaurants. Ever since I came to Loyola, it has been my mission to try as many restaurants as possible. After living in Baltimore for almost four years, I have finally figured out which are my favorites. Here are four restaurants I recommend trying if you're new to Loyola or the Baltimore area!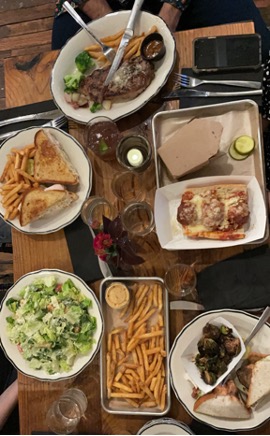 Wicked Sisters 
Yelp.com rating: 4 stars • $$
Wicked Sisters is a restaurant you do not want to miss! Located in the Hampden neighborhood of Baltimore, it is less than a 10-minute drive from Loyola's campus. The restaurant serves a variety of classic American dishes for brunch, lunch, and dinner. It is very popular with Loyola students due to its unique atmosphere and delicious food. The décor is fun and original, which makes it the perfect spot for some photos. As for food and drink, they offer various appetizers, breakfast dishes, sandwiches, salads, desserts, and of course cocktails (for the 21+ crowd). I recommend trying their grilled chicken sandwich, mac and cheese, or their meatball sub!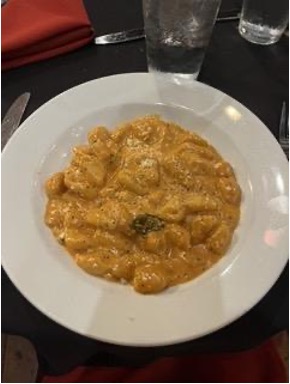 Sammy's Trattoria
Yelp.com rating: 3.9 stars • $$
Sammy's Trattoria is a great spot if you want a delicious Italian dinner for a reasonable price. Sammy's is located on North Charles Street, about a 15-minute drive from campus. Their menu offers a variety of antipasto (appetizers), pizza, pasta, salads, and various meat and fish entrées. One of the restaurant's best attributes is the free Italian bread and olive oil. It is something a lot of other Italian restaurants offer, but Sammy's genuinely has some of the most delicious bread I have ever tried. As for the main meals, I recommend trying Mary Jo's homemade three-cheese gnocchi, which you can get with the choice of vodka sauce, pesto, wild mushroom butter sauce, or bolognese. Another popular dish is Sonny's Chicken Parm, for when you are craving something other than pasta or pizza.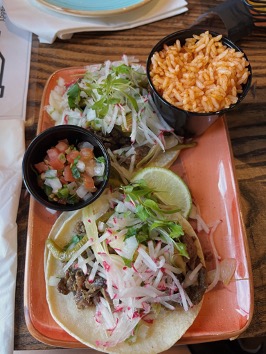 Papi's Tacos
Yelp.com rating: 3.9 stars • $$
Located in Hampden very close to Wicked Sisters, Papi's Tacos is amazing for when you're craving Mexican food. They offer both indoor and outdoor seating for guests and are open for lunch and dinner. Like many Mexican restaurants, Papi's starts off the meal with delicious (and free!) chips and salsa. As for the entrée, restaurant-goers can choose from different kinds of tacos, quesadillas, burritos, nachos, and so much more. Papi's menu is unique because they offer a "build your own taco" option, which is a personal favorite of mine. They allow you to choose your preferred taco shell, topping style, and filling, and give you an option of having salsa, rice, and/or beans on the side. The "build your own" feature is great because it allows more variety and includes vegetarian and vegan options.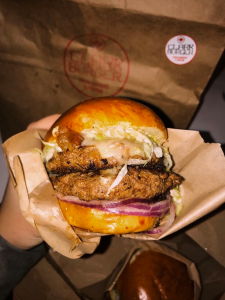 Clark Burger
Yelp.com rating: 4.2 stars • $$
The fourth and final restaurant I recommend is Clark Burger on York Road! It's super close to campus–right next to the Senator Theatre where Loyola students can buy $5 movie tickets. Clark Burger has a partnership with the theater where you can bring your Clark Burger meal and enjoy it during a movie. Clark Burger offers a variety of burgers, and it is worth noting that they do have a veggie burger option! The "build your own burger" is a great choice, because you can customize your burger order any way that you would like. When I go, I usually order the traditional "Clark Burger," which is a regular beef burger topped with cheddar cheese, bacon, red onion, pickles, lettuce, and the special Clark Burger sauce. My go-to side order is the garlic frites, which are topped with garlic and parmesan cheese and come with garlic mayo. They also have plain french fries, which are just as delicious.