The Forever-Green Thrift Store, organized by the Center for Community, Service, and Justice (CCSJ), is returning this Friday, Nov. 10 from 12:30-4:00 p.m. in McGuire Hall.
CCSJ held its first-ever thrift store event during the spring 2022 semester and the tradition continues with the goals of encouraging sustainable fashion choices, educating students about environmental justice, and raising money for environmental justice initiatives. The thrift store was started by a former CCSJ student intern and continues to be a popular semesterly event on campus. CCSJ collects used clothing donations during the months leading up to the thrift store from the Loyola community and sells them in McGuire Hall, using the proceeds to make a donation to an environmental non-profit organization in Baltimore. 
This year, the thrift store will donate all of its proceeds to the South Baltimore Community Land Trust. Carissa Cordero '24, the Sustainability Program Coordinator at CCSJ, shared some information about South Baltimore and why it is an important organization to support. 
"I chose [South Baltimore Community Land Trust] in particular after reading a book called 'Fighting to Breathe,' which is about high schoolers in south Baltimore fighting to stop an incinerator from being built," Cordero said.
South Baltimore Community Land Trust aims to move the city towards producing zero waste and to increase the availability of affordable housing for local citizens. The Book Cordero mentioned, "Fighting to Breathe," follows a dynamic group of Baltimore high school students from South Baltimore who decided to fight back against the race and class based health disparities and inequality in their community. Cordero talked about how the thrift store and our individual consumer choices are related to these broader environmental justice issues. 
"​​Reducing our waste both helps in the end of life process by sending less clothes to be burned in the Baltimore incinerator, and provides an alternative shopping experience than buying new clothes, which often relies on an unethical and environmentally harmful system that burdens the Global South," Cordero said. 
This year, Cordero organized a Forever-Green team, which is a group of 20 student volunteers who have prepared for the thrift store. The team has been sorting the clothing donations, developing and sharing knowledge surrounding fast fashion and environmental justice, encouraging civic engagement by tabling on campus, and creating promotional content.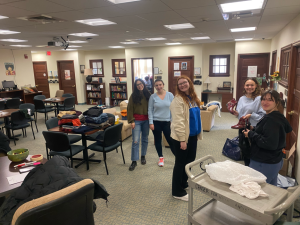 "It's been so wonderful working with all of them and having a consistent group of people to form a sense of community in the work we're doing. I hope to continue building connections with students that are motivated to live sustainably and help our campus move in that direction too," Cordero said. 
The Forever-Green Thrift Store is organized by CCSJ with support from other organizations on campus such as the Environmental Action Club and the Sewing Club. These clubs, along with the South Baltimore Community Land Trust and CCSJ, will all be at the thrift store sharing ways for shoppers to engage with environmental justice and sustainable living. 
"Shopping mindfully and buying secondhand allows us to recirculate clothing, which keeps them out of the landfill and works to limit mass production of goods. I want others to understand that shopping sustainably is not a sacrifice but something that fosters creativity, self expression, and helps to create a circular world," said Isabella Botto '24, public relations director of the Environmental Action Club and a member of the Forever-Green team. 
Cordero hopes that the thrift store serves as a way for the Loyola community to understand that living sustainably is something that connects to all parts of our lives. 
To learn about upcoming CCSJ initiatives, be sure to follow them on Instagram.