On an early November afternoon in Loyola Notre Dame Library's IDEA space, students are spread out with fabrics of all colors and patterns cut, pinned, and stitched. Some students sit with embroidery hoops weaving needles and learning basic stitches while some create more advanced designs. The sound of sewing machines running adds to the ambiance of the Loyola Sewing Club.  
The club was founded at the beginning of the spring 2023 semester but has since begun gaining more members, more materials, and more possibilities.  
The club's president, Veronica Ford '25, brought her own love and knowledge of sewing to help widen students' creative abilities. 
"I was sewing by myself my freshman and sophomore year at Loyola, and then in the middle of my sophomore year I realized that I could start a club and find other people who also like to sew. I just wanted a space where I could sew with other people and share the joy of sewing," Ford said.  
The Sewing Club's collaborative environment helps members of any experience level learn how to bring their ideas to fruition. That is why members are encouraged to pick a personal project they find interesting and devote as much time as they'd like to it. 
"It's a very lowkey club. You commit as much time as you feel like," said Ford. "The meetings are 3 hours long, but it's just so anyone can come for any amount of time."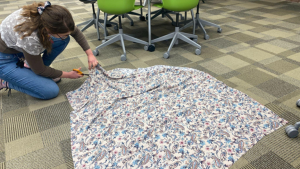 Another way the club aims to be low commitment is with the materials itself. For some who want to learn how to sew but don't have access to sewing machines and cannot afford the materials for something they are looking to try out, developing the craft is difficult. That is why the materials for sewing projects are provided by the club. 
"We don't want people to have to spend money to be in the club. That's why we have all the materials: we have scissors, we have sewing machines, we have thread, we have needles, we have thimbles, we have measuring tapes, and hem gauges, and we're going to get a serger for the club too," Ford said. 
Aside from individual projects, the Sewing Club has also hosted mending and upcycling events open to anyone on campus looking to stop in and repair any ripped seam or missing button. 
"It's nice to have a club setting with more experienced people like Veronica who know a lot about sewing to help guide you if you want to know how to do a certain hem or for what would look best on a patch for a jacket," said Gabby LeGates '25, the club's treasurer. 
In the future, the Sewing Club hopes to incorporate more opportunities for community service. Ford plans to work with the club's faculty moderator, Pat Cassidy, an associate director for CCSJ, to help facilitate future community service projects and initiatives. 
Additionally, the club wants to focus on their environmental impact. The club's officers have already begun obtaining fabric and other materials from more sustainable sources like Scrap B-More, which sells donated second-hand fabric as well as many other crafting supplies.  
The Sewing Club meets Fridays and Sundays at Loyola Notre Dame Library's IDEA Space from 1-4 p.m.. Sign up on The Bridge to learn more information about meetings.