A Look Inside the Upcoming BSA Fashion Show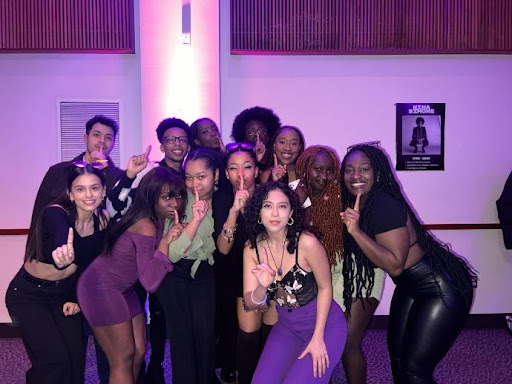 The Black Student Association Fashion Show is an annual event on campus that showcases black culture, fashion, music, and talent. It brings the Loyola community together to celebrate the beauty in our differences through fashion. You can see the show on March 31 in Reitz Arena with general admission tickets priced at $15 and VIP tickets priced at $25. 
The BSA Fashion Show began in 1998 to promote black talent on Loyola's campus. Completely student-run, this production is by the students and for the students, inviting Loyola students of all backgrounds to come together to celebrate diversity. This year, the BSA Fashion Show is made possible by over 100 dedicated students and staff members. The models, volunteers, scene leaders, directors, and many others have been working on the show since November. Jalen Taylor '25 is a model in this year's show. This year will be his second time modeling. 
Taylor said, "You can expect to see power. Honestly, it's just so much greatness going on. I can't even explain it." His experience working on the show has been overwhelmingly positive. 
"You're around so many people that are so creative," Taylor said. "I never would have thought so but there's so many minds, so many dancers and stuff. So it's really great to be a part of." 
Abena Ansah '24 is also a second-time model this year. 
Ansah said, "It's really fun and it's with a lot of the students I already know. So practice feels like just socializing with my friends while also learning choreography and preparing for this big show. We're all really excited." Rehearsals and practices are not all fun and games, though. Maiah Lester '23 is a scene leader for the show this year. 
She said that all the scene leaders oversee "choreographing, picking the models, doing the lighting, graphics that go on the screen, so it's a lot." A lot of hard work goes into producing and creating the BSA Fashion Show. 
Lester said, "Mid November was the first audition, then we've been practicing ever since, and we'll be practicing until March 31st." 
"It's very hard work. I didn't know how much hard work was going to go into it, but you would think, oh it's just like modeling and stuff. No. Like, it's so much work, it's so much practicing," Taylor said. "But it's good. I wouldn't change it for anything, honestly." This year's fashion show will be filled with individuality and originality. 
Ansah said, "I think the scene leaders are very creative. If you know the scene leaders, you're going to see their own personality in the choreography, and I think that's really special. The clothes, the lighting, there's videos playing while we're dancing. It's all an amazing experience." 
Clothes from local Baltimore boutiques will be featured in the show. Models and directors are involved in choosing the vendors and selecting the clothes. Ansah spoke about her experience as a model last year. 
She said, "We literally go into these little boutiques in Baltimore, we work with the owners, and we tell them what the vibe of the show is…It's like a deal we have. We borrow the clothes; we give them attention." 
The BSA Fashion Show promotes and supports local businesses while celebrating diversity at Loyola. It is a chance for the Loyola student body to come together to foster and appreciate the creativity and talent of those who put the show together. 
Come support your fellow Greyhounds on March 31 and enjoy all the hard work that so many students have put into this show.  Tickets are on sale right now at the box office or on Ticketmaster. Make sure to grab yours before they sell out!
Leave a Comment