Iggy: Behind the Scenes of Loyola's Beloved Mascot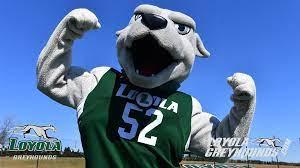 Many students at Loyola who attend sporting events are familiar with Iggy the Greyhound mascot as he always is tasked with hyping up the crowd and bringing out school spirit. What they might not know is who puts on the costume and mask, and if so, what that experience is like. For the last four years, Blessy Mbaya '23 has taken on the role of Iggy and has been responsible for a big part of Loyola's school spirit. 
In 2019, when Mbaya first came to Loyola, he didn't think he would become Iggy right away.
"The way that I got the job was rather unique as during my senior year of high school at Loyola Blakefield, an article about high school mascots was featured in a local magazine called The Catholic Review," Mbaya said. "Since I was the mascot at Loyola Blakefield, I got to be featured in, and I said I would be attending Loyola University Maryland." From there, he believed things sort of fell into place. 
"A Loyola employee who worked in the athletic department saw this article and passed it on to our associate director of game day marketing," Mbaya said. "Loyola's previous mascot had just graduated, and they needed someone to take his place." 
After a quick meeting, Mbaya accepted the job and suited up for his first game on Sept. 20, 2019, and hasn't looked back ever since. As for the behind-the-scenes aspect of being a mascot, one of the main reasons Mbaya was chosen for the role of Iggy was because of his experience in high school. 
He commented on his training experience saying, "Luckily, I came into the job with four years of experience as I spent seven years in the performing arts, ranging from dance to performing in plays and musicals. In that regard, I was prepared for putting on a show in front of a large crowd of people." 
But as for having to wear a mascot suit and mastering the art of crowd engagement, Mbaya says he lucked out because of a prior connection.
 "A former faculty member of my high school and now fellow professional mascot colleague trained me in all parts of being a mascot," he said. "From crowd engagement to how to be aware of my surroundings despite limited vision. All the skills I have, I owed to him putting me in the mascot suit back in my freshman year of high school." 
He uses his skills to cover a multitude of Loyola sports games including women's volleyball, men's and women's soccer, men's and women's basketball, and men's and women's lacrosse. Mbaya only had one qualm when it came to the games he covered. 
 "A regret of mine is that the university never sent me out to the swim meets, track meets, or even tennis matches," he said. "They are a part of the Loyola community that I feel isn't shown off as much. Maybe the next mascot can do what I could not."
Loyola athletes know how important it is to stay hydrated during their games, but for Iggy, it is a different task. He says staying hydrated is a balancing act.
"As for hydration, it is a very delicate dance that I do with my water intake," Mbaya said. "I need enough water to not pass out, but also not too much water that I need to use the restroom every fifteen minutes." 
As for the suit itself, it is never the question of if it gets hot but how he manages to not sweat more than the players on the field or court. Whenever someone asks Mbaya if the suit is hot, he always tries to put it into perspective for them.
"Think of your heaviest winter coat, like the one that makes you feel like a giant ball. Now double that and try running and jumping in it," he said. "I really thrive in the later part of the soccer and early lacrosse seasons because while everyone is freezing outside, I am nice and toasty." 
However, for this senior, those sunny afternoon games and late-night freezing games mean more to him because he gets to represent Loyola as Iggy. 
"Although it was a childhood dream of mine, coming to Loyola was daunting. I was scared to leave the comfort of my middle/high school and venture out into a new surrounding," Mbaya said. "As a commuter student, I felt isolated and was desperate for something to connect me to the school."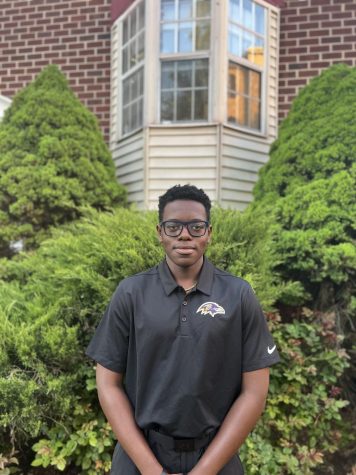 After he graduates this year, Mbaya will move on from being Iggy and become the Baltimore Ravens mascot. 
In doing so, he credited Loyola saying, "Being the mascot means so much more than the Loyola community will ever understand. With every game, you pushed me to be even better. This constant driving led me to audition for a new challenge: I have already made a formal announcement, but I have joined the NFL Baltimore Ravens and am now part of their mascot team. So, if you aren't sick of me yet, catch me downtown at every home game." 
He left the Loyola community one final message as his last semester comes to an end saying, "As my time as Iggy winds down to the final handful of games, I bid Loyola farewell. I know that whoever takes on the suit will do it justice. Loyola became my family when I needed it most. I just hope that I returned the favor. Much love from your friendly mascot, Blessy Mbaya '23 aka Iggy."
View Comments (2)