Jack McCormick Announces the Loyolapalooza Headliner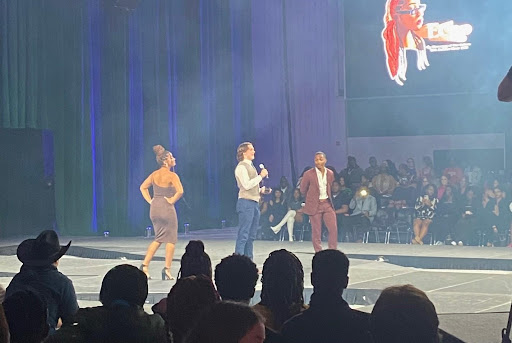 Jeremih, the artist that is performing at this year's upcoming Loyolapalooza, is an artist who releases R&B pop music and has produced numerous songs that have risen in popularity, such as "Oui" and "Don't Tell Em'." Born in Chicago, Illinois, Jeremih has an accomplished discography and has won awards for his contribution to music, such as the MTV Video Music Award and the iHeart Radio Music award for Hip-Hop/R&B Song of the Year.
Jack McCormick '23, Vice President of Social Affairs, was tasked with revealing Jeremih as the headlining artist at this year's Loyolapalooza. A tradition that is beloved by the entire university, the students look to the BSA Fashion Show to discover who the latest musical guest will be to celebrate the close of the academic school year. McCormick reveals what it was like to reveal the musical artist, Jeremih, during the fashion show. 
"I was really nervous during the fashion show about people liking the artist. My biggest goal in getting this artist was to satisfy the student body. I was looking for anything from the crowd once it was finally revealed in the video, and when I saw this kid, Danny Riley, he's a first year, stand up, I then saw like 20 or 30 more people stand up." McCormick said. "That's when I knew I did a good job – when I saw people stand up, and clap, that was one of the craziest moments of my life. It just felt so good to be able to serve the student body in a way that I think was satisfactory." 
As a means of revealing the artist for this year's festival, McCormick and his team decided to put together a video that draws inspiration from the movie "Ferris Bueller's Day Off."
"I hired Ryan Hiebler and Alex Brune, and Alex came over to my house, and we were thinking for weeks on how to really reveal the video," McCormick said. Although the moment itself was remarkable, there was a lot of time dedicated to the cultivation of this year's festival. 
McCormick said, "It takes a lot of time. I started the process in October, by sending out a survey and getting people's feedback and insight, seeing what artists and recommendations people have for the day. And then from there, the first thing is really selecting the artists and utilizing my committee."  
A tradition that has been present at Loyola for years, there has not been an authentic Loyolapalooza since the beginning of the Covid-19 pandemic; as seen with other organizations on campus as well, this is the first year where pandemic restrictions have not prevented full-scale events.  
McCormick also speaks of problems faced by students regarding a sense of estrangement on campus, which he hopes to alleviate through the excitement of Loyolapalooza. He explained how Covid-19 presented multiple problems with hosting a festival of this caliber on the Evergreen campus, and also touched upon other aspects of Loyola's adversities.
"Loyola often faces problems with students not feeling a sense of belonging. And I'm hoping that this day, even though it's a concert, is able to make people feel like they belong and are included in something again," McCormick said. 
 With the end of the semester approaching and Loyolapalooza to look forward to, McCormick explains the most important aspect of his planning was inclusion, hoping that "this day brings people together in community." 
Loyolapalooza takes place on April 30, and will have a variety of entertainment for the Evergreen campus, including carnival rides, food vendors, activities, and more! This is an event you will not want to miss!For more information on performance times, free giveaways, and more, follow @loyolamdsga.
Leave a Comment