How does a piece of writing progress from notebook to magazine? Have you ever wondered how writers go about publishing their work in literary journals, anthologies, chapbooks, and books? In WR302 Wet Ink: Writing and Editing Publication, Professor Helen Hofling aims to demystify the process of getting a piece of creative writing published, and to help students develop editing, proofreading, and design skills in a collaborative environment. 
"I just really like editing, I like teaching it, and I thought, we have a ton of students who are really passionate about creative writing. We're doing all this great work for Corridors and in our classes but [we] aren't necessarily thinking about creative writing as professional writing," Hofling said.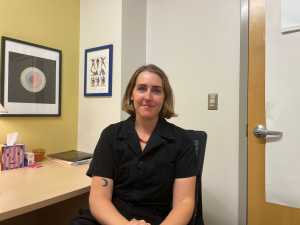 Hofling has been teaching at Loyola's Writing Department since 2018. Her work has appeared in the Berkeley Poetry Review, The Columbia Review, Electric Literature, The Hopkins Review, and elsewhere. She talks about how the course, which hasn't run in almost five years, has been rewarding for her. 
"The writing is always what's so exciting to me. Seeing students get animated and surprise themselves about what they're doing, it's cool seeing students beginning to feel that as well," she said. 
The course culminates with students editing and producing original chapbooks of writing, handbound mini-magazines, from work they have solicited from Loyola students. There are four chapbooks with four separate themes: sound, lost things, seasons, and fear. 
"The students came up with these ideas and they developed really great prompts to try and get submissions from other students and Loyola community members," Hofling said. 
Whether it is a poem, short story, or essay, the students of Wet Ink invite submissions for the themed chapbooks. They ask writers to interpret the prompts however they choose. For example, how do you experience sound? What have you lost? How does a season relate to you? What is fear to you? Submissions are due Oct. 25, and the class is asking for all types of writing generally under 1,000 words.
Hofling talks about the seemingly secretive process of getting published.  
"How does work go from in my notebook, in my word document, to a literary journal? It sounds very mysterious but it's actually not, so we're trying to demystify that," she said. 
Hofling plans on having a release party for the chapbooks on Nov. 29 in Loyola's library gallery. She gives some parting thoughts to students thinking about potentially submitting their work to Wet Ink. 
"Do it! Don't second guess yourself, I think if you have an idea based on one of the prompts send it our way! You've got an opportunity for a very editorially engaged group of students who really want to read your work. And it's a chance to publish, to really work with the editorial process in a way you might not at this level usually, and also participate in Loyola's community of writers," Hofling said. 
If you're interested in submitting your work to Wet Ink or have any further questions you can reach out to Hofling at [email protected].