Choolaah Indian BBQ: One of the New Favorite Spots on Campus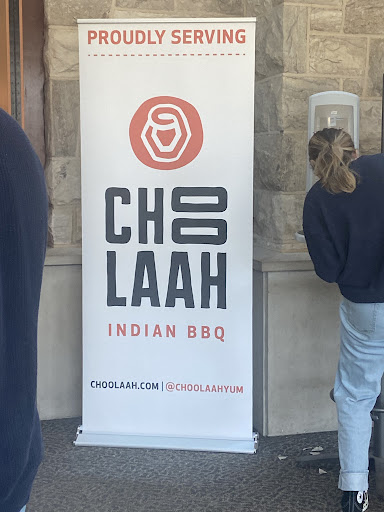 The following represents the opinion of the student reporter and does not represent the views of Loyola University Maryland, the Greyhound, or Loyola University's Department of Communication.
Choolaah Indian BBQ is a new food option recently added to campus and it offers a unique blend of Indian and American flavors. Choolaah has locations in Virginia and is known for being a fast-casual restaurant that specializes in customizable bowls and wraps featuring fresh, healthy ingredients and bold spices. Marty MacStudy '23 reflects on how he enjoys the addition.
MacStudy said, "I really love the addition of Choolaah to campus! Not only does it add to the food options on campus, but it's one of the tastiest meals I've had here."
The menu at Choolaah offers a few options on campus. These include chickpea, lentil, and tomato masala. Students can choose to get a rice base with the addition of chicken or extra rice. Despite the select amount of options, Nikki Sheehan '23 appreciates the ease of deciding what to order.
Sheehan said, "Even though they have a few options, I like them! It makes it easier to choose what you are getting". 
In terms of taste, Choolaah has received high praise from customers. The restaurant's blend of Indian and American flavors creates a unique and delicious experience that is sure to satisfy any palate. 
David Avallone '24 said, "It was a great surprise to come back to campus and there was a new food option on campus." 
Personally, I loved the addition of Indian to campus. I think it's awesome to have something different and have the chance to expand my palate. Every time I have had the chance to taste it, it has exceeded my expectations. 
MacStudy shared similar sentiments about having the opportunity to try something different. He said "Indian BBQ isn't something I have too regularly so I appreciate the opportunity to expand my taste palate"
The food is flavorful, spicy, and aromatic, and it's easy to see why Choolaah has become a favorite among Loyola students and staff.
Avallone said, "Once I tried it, I loved it and it will definitely become one of my go to places to eat on campus from now on."
Overall, Choolaah Indian BBQ is a fantastic addition to the Loyola University food scene. With its commitment to quality ingredients, delicious food, and sustainable practices, it's a great choice for anyone looking for a tasty and healthy meal.
Leave a Comment