Clash of the Fast Food Chicken Chains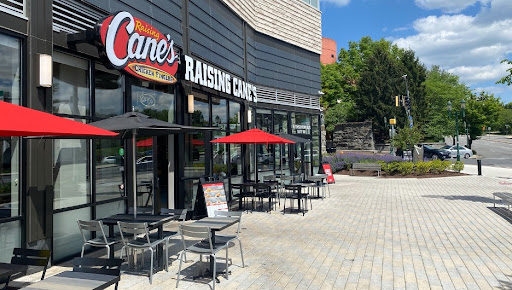 The following represents the opinion of the student reporter and does not represent the views of Loyola University Maryland, the Greyhound, or Loyola University's Department of Communication.
About the Judges- Eli Falconer '23 and Rob Handler '23 are two self-proclaimed chicken enthusiasts who have been excitedly watching the competition of chicken franchises in Baltimore increase during our college tenure. As seniors we have been able to indulge in this chicken for years. We also have experience cooking as a hobby and creating our own fried chicken. Both Rob and Eli have experience judging food competitions internationally; we both served as judges of a dorm building pancake cook off during our study abroad experience in Athens, Greece.
Chick-Fil-A, Raising Canes, and Popeyes are in the midst of an intense battle for the hearts of chicken lovers in the Baltimore Metropolitan area. Raising Canes was introduced to Towson on January 16, 2023, and was met with massive popularity. Lines wrapped around the block as Raising Cane's employees braced the storm of curious eaters. After giving Canes a grace period, allowing recency bias to die down and the establishment to settle in, I'm ready to answer one big question. 
Which chicken spot is the best? We went to Raising Canes, Popeyes, and Chick-Fil-A to find out.
First up was the new Raising Canes. We each got the box combo which comes with four chicken tenders, their signature sauce, crinkle-cut french fries, a piece of Texas toast, cole slaw, and a drink. However, we replaced the cole slaw with another piece of toast, as any sane person would do. Let me tell you, this toast does everything right. 
But don't listen to me, listen to a local hungry college student, Colin Query '23, who has nothing but praise for the side. 
"The toast is very good. The combo of dipping it into the sauce is a game-changer. Absolute game changer," he said.
It's soft on the inside but beautifully golden and crispy on the outside. The bread is aided by the perfect amount of garlic and butter, it's not enough to overthrow the taste of the bread, but just enough to add the perfect amount of sweetness to balance everything out. It's not too dry and acts as the perfect side.
While the toast does its best to steal the show, the center of meals at Raising Canes is the chicken tenders. The tenders are fried well creating perfectly crispy strips of chicken. They're sized well and complemented perfectly by the signature Cane sauce. Conrad Cacciola '23 recently had Raising Canes for the first time and is quite pleased.
"This is in the top three of fast food chicken I've ever had," he said. "It's a solid 8.5 out of 10 with larger portions than other places nearby." 
The chicken tender is less golden brown and more accurately described as a matte light brown. It also smells more seasoned than Chick-fil-A, but less so than Popeyes. When I bit into the chicken, I was surprised by the interesting flavors that were present in the meat. It tasted quite moist and flavorful. The breading was not overly powerful, and the chicken was quite filling. 
In addition to the chicken itself, the combo came with crinkle-cut fries, Texas toast, coleslaw, a package of Cane's Sauce, and a fountain drink. This is a great value and completely filled me when I ate. The fries and the coleslaw were average, and I probably would not order them on their own. 
The Cane's Sauce was underwhelming to be completely honest. We expected the combination of mayonnaise, ketchup, garlic powder, Worcestershire sauce, black pepper, and vinegar to taste more unique. In all honesty, it tasted as if we were dipping my chicken in mayonnaise and brown sugar. The combination was too rich and could certainly upset the stomachs of those with food sensitivities. We were not fans.
Here are our complete ratings of the Cane's experience:
TASTE: 10
CONTENTS: 8
VALUE: 8
HEALTH: 2
LOCATION AND RESTAURANT EXPERIENCE: 6
SAUCE RATING: 4
Overall: 7
Now, we go to Popeyes.
When we arrived at Popeyes on York Road, we were not impressed with the facilities. One of the menu signs did not work and it was generally dingy and dirty. On the plus side, it was not very busy, with only one other gentleman. There is a somewhat open kitchen, where we can see the few workers who were preparing my food. We ordered a two-piece chicken dinner option. This was made with the classic preparation as opposed to the spicy prep. In addition, we ordered the dark meat variety for $8.39. 
The chicken itself was quite good, it was served warm. The chicken itself was a very nice golden-brown color and was quite crisp to the touch. The warmth of the chicken felt appropriate, and it smelled of many spices. I could not identify these spices from the smell, it was more an indiscriminate spice and herb smell. Upon biting the chicken, I was surprised by the strong crunch and the almost sharp nature of the breading. The taste was quite good, and it appeared well-cooked. The chicken was moist, and it was flavored well. 
Matt Butler '23, a senior at Loyola and avid chicken enthusiast, believes that Popeyes is the superior chicken chain in Baltimore. 
He says, "The Popeyes chicken sandwich is superior to other fast-food variants for a variety of reasons. Not only is the chicken very flavorful and juicy, but the crunch from the breading adds a lovely texture. Furthermore, there is a spicy or classic option, both of which come with spicy or regular mayo, respectively. This enhances the flavor of the chicken, and the spicy one has just the right amount of heat."
In conclusion, the meal was not quite as filling as we would have liked, and it was not exactly a healthy meal. The flavor was good, and it was seasoned well, however. We would confidently eat it again however it is certainly not my first choice.
TASTE: 9
CONTENTS: 7
VALUE: 6
HEALTH: 2
LOCATION AND RESTAURANT EXPERIENCE: 7
OVERALL: 6.5
Next up is Chick-Fil-A
Chick-Fil-A's strong point is its chicken sandwich, which is much stronger than any sandwich offered at Cane's. The classic sandwich is timeless and consistent. It's light but not small, never dry, and complemented quite well by whatever your go-to dipping sauce is. Everyone knows their chicken sandwich is one of the best in the game. But it's not just their chicken that makes them popular, their signature waffle fries are in a league of their own. These fries are enough for Kelsey Redman '23 to choose Chick-Fil-A over Raising Canes and Popeyes. 
She said, "I like Chick-Fil-A the best because the fries are so much better. The fries at the other places are just regular fast food fries but these are different." 
Fries are certainly one advantage Chick-Fil-A has. Their overall variety of options is another advantage. From spicy chicken to soups, macaroni and cheese, and grilled chicken, the Chick-Fil-A menu has Canes beat by a landslide. There's something for everyone regardless of what you're in the mood for. While we, along with survey participants, prefer the Canes chicken tenders to Chick-Fil-A's, the latter is a stronger establishment overall. Not only are they more versatile, but they have unmatched customer service. Just ask long-time former Chick-Fil-A employee Brian McCormick '23. 
"Chick-Fil-A's got a good system going with their employees," he said. "Everyone knows what their job is and how to do it efficiently. It's all about pleasing the customer."
And pleasing the customer they did, as we, among others, are ready to declare Chick-Fil-A the superior restaurant. 
Here are our Chick-Fil-A Ratings:
TASTE: 10
CONTENTS: 8
VALUE: 8
HEALTH: 2
LOCATION AND RESTAURANT EXPERIENCE: 6
SAUCE RATING: 4
OVERALL RATING: 7.5
Leave a Comment