Goals for the 2023 Women's Lacrosse Season with Head Coach Jen Adams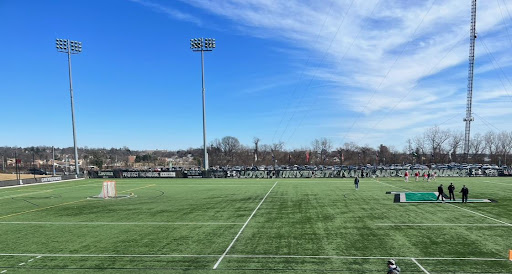 If you are a fan of lacrosse, Loyola is the right choice for you. The women's lacrosse team looks to win their third straight Patriot League title this year. They have started with an impressive 5-2 start to this 2023 season. Dominating most of their competition, only falling to #2 ranked Syracuse and #10 ranked Florida. With their next five games all in league competition, they look to come out with fire.
Head Coach Jen Adams has been at Loyola for 14 years. Entering the 2023 season, Adams has a career record of 190-72 in 14 years. The three-time IWLCA Mid-Atlantic Region Coach of the Year has led Loyola to nine NCAA Championships appearances in the last 10 completed seasons, dating back to 2010. Also, with star attackman and 22' Tewaaraton Award Watch List Player Sydni Black '24 returning and already netting 16 goals and 13 assists, it is no secret that Loyola has all the tools for a successful postseason push this year. After speaking with Head Coach Jen Adams, I asked her if there is anything you are looking to improve on this year. 
Coach Adams said, "Lots to improve. With 7 games in, we are 5-2 and we only have a guaranteed 10 left, we have learned from wins and losses. There have been times when we have played great, there have been times when we are inconsistent, and times when games have slipped through our fingers. We have a lot of growing we have left to do and we are in the process of identifying ourselves."
Continuing our conversation, I asked Adams if there are any specific games as a coach you are particularly proud of this season so far. 
She said, "It's tough. After playing #2 ranked Syracuse, there's a lot to be proud of. It's not all about the scoreboard, there are a lot of moments in that game that I am proud of. We are trying to draw more out of the good of that game to continue our success forward."
Loyola's team put up a great fight against #2 ranked Syracuse and only fell 7-9 to the No. 2 ranked Orange. Looking through their schedule, the women's team has a lot of weeks with two games and hours of schoolwork to do each week. I asked Adams how she keeps the team prepared for gameday, especially having such a challenging schedule. 
Adams said, "We look after our girls as athletes making sure they sleep, making sure they eat, making sure they are caught up with schoolwork. Our athletes are students first rather than athletes but when they arrive at Ridley,it is lacrosse. We as coaches like to make sure we utilize our time at Ridley as best as we can to keep them prepared. It is important to find a balance between student and athlete." 
Lastly, coming off two straight conference championship wins and very successful seasons, Loyola has a tough schedule this season. I asked Adams if there were any specific games Coach Adams was looking forward to this year. 
"As we switch to conference games this year, our goal is another conference championship. Lehigh, Army, and Navy are all competitive, good teams this year, so we are looking forward to playing them," she said. "Then later in the year, we have Princeton so as a team we will have to be able to switch from Conference play to Ivy league play, which will determine a lot about us this year."   
The women's lacrosse team plays their first conference game this Saturday, March 17. Looking to improve to 6-2, they face Lehigh at noon at Ridley Athletic Complex.
Leave a Comment