Loyola Women's Lacrosse Falls to #2 Ranked Syracuse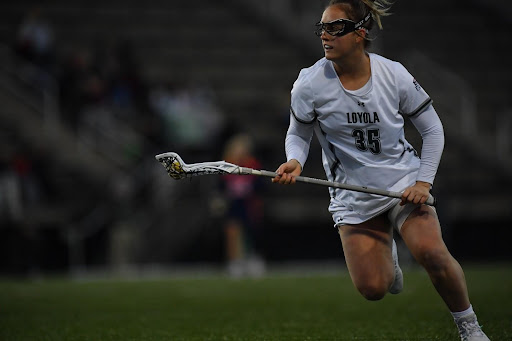 Loyola Women's Lacrosse lost to the Syracuse Orange, who are ranked number two in the country, by a score of 9-7. The team fell short on Wednesday night, despite keeping the game within reach throughout the entire four quarters.  
The team currently ranks ninth in the country with a 5-2 record, possessing significant wins over programs including nationally-ranked John Hopkins University and the University of Pennsylvania.  
Anna Ruby '23 led the way for the Greyhounds, tallying four goals in the losing effort. Chase Boyle '25 followed in totaling one goal and two assists, and graduate student Jillian Wilson added in a goal and an assist for the Greyhounds.  
The Greyhound team showed resilience throughout the game. Down 6-3 at halftime, the team was able to rally back to tie the game up at 6 thanks to Wilson's 15th goal of the season. Then,  they took the lead with 24 seconds left in the third quarter as Boyle was able to capitalize on a man-up advantage. This, however, proved to be the last goal of the game for the Greyhounds, as they were outscored 3-0 in the fourth quarter.  
Despite the final score resulting in a loss, the Greyhounds displayed extreme promise. They are the first opponent to hold a Syracuse offense scoreless in a quarter this entire season as they did in the third quarter. The game also displayed the fight this team possesses, a key tool that will be necessary as their season progresses into Patriot League play and into the NCAA Tournament.
The game against Syracuse was the final match before heading into Patriot League play. Coach Jenn Adams valued the team's extremely challenging non-conference schedule.  
Discussing the benefits of this challenging first part of the season, Adams said, "A lot of it is helping establish confidence, a lot of it is building game plans and executing and making sure that our players feel battle-tested… You put yourself up against those as a challenge and to compete and we did that today." The team has now lost two games in a row, both to top-ten-ranked programs. Coach Adams recognized these losses as potential learning tools. 
She said, "Two tough games where I've felt like we had control and let it slide. These are growing and maturing moments for our team as we are still establishing an identity out here. This 2023 season is about getting better through wins and losses." 
Last year, Loyola did not suffer its first loss of the season until March 29, when it lost by one goal to Syracuse. This year, the squad lost significant pieces including Livy Rosenzweig, Loyola's career leader in points and assists, along with Sam Fiedler and Ellie Kluegel, who rank ninth and 11th all-time in goals scored for Loyola. 
While this year's team has suffered two early losses, the chemistry, bond, and camaraderie are extremely present to any spectator of the Greyhounds.  Anna Ruby was quick to recognize this chemistry on the field. 
She said, "I think what sets us apart is the positivity and energy that we bring all the time. Any time Syracuse was scoring, it didn't rattle us or make us nervous. We are very confident in each other and I think that the beauty of it is that all seven players are threats at all times."
This connection did not just stop with the players on the field. It was also evident from the players on the bench as they shouted with joy every time Lauren Spence made a save, Chase Boyle won a draw, or Lily Osborne scooped up a ground ball. Adams credited her team. 
"Our bench energy is just insane, it's behind me and it fires me up and I know it fires the rest of the team up," she said. "It's a tough thing to do, to be on the sideline and want to be in the game and want to be playing, but the selflessness of this group to accomplish something as a team is something special." 
Despite the loss, the Greyhound team possesses star power coincided with relentless positive energy, which makes for a dangerous combination for future opponents. Loyola looks to start conference play in the win column on Saturday, March 18, as Lehigh comes to play the Greyhounds at noon at Ridley Athletic Complex. 
Leave a Comment
Your donation will support the student journalists of Loyola University Maryland. Your contribution will allow us to purchase equipment and cover our annual website hosting costs.