Barbie™ is making headlines with the release of a custom Ashley Graham doll that honors the model, designer, and body activist. Graham has participated in many campaigns that speak about body positivity and "loving the skin that you're in." She was recently one of the faces of the Lane Bryant This Body campaign, which encourages women to embrace their bodies no matter the shape or size, and urges women around the world to silence body shamers by sharing positive body diversity messages.
Historically, Barbie has a smaller frame– one that has been scrutinized time and time again for having impossible physiological proportions. In the past, parents who desire more for their kids have recognized the lack of depth in the Barbie persona.  It reinforces the idea that smaller is better and ideal: a damaging message to an audience of young girls whose self-esteems are strongly influenced by the world around them.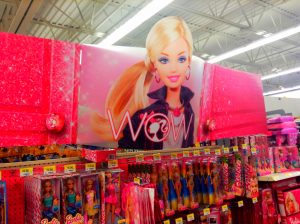 The USA Today article discusses that Barbie has combated these issues by the introduction of three new body shapes in its fashionista line and over 20 new skin tones and hairstyles earlier this year. Barbie™ has deviated from its selective body size and has evolved to support the typical female body shape and size.
But these controversies were not intended when Barbie was first created. When Ruth Handler first created Barbie™, she did it so that young girls could realize their potential. On the Barbie webpage, Handler states, "Through the doll, the little girls could be anything she wanted to be. Barbie always represented the fact that a woman has choices."  With this ideal in mind, the company has recently worked harder to focus its message on embracing the diverse features that make us human and unique, such as body shape and size.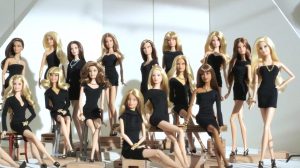 As a child, I collected Barbie dolls. The dolls were diverse in occupation and somewhat in skin tone, but never in body shape and size. Barbie was a doctor, teacher, astronaut, or veterinarian that was either pale, tan, or brown. But Barbie™ failed to comply with the body shapes and sizes that I saw in the women around me, and that me and my friends eventually grew to have.
A USA Today article reported that Graham's doll will be featured in Barbie's Shereos line, which also consists of dolls modeled after director Ava DuVernay, dancer Misty Copeland, gymnast Gabby Douglas and actress Zendaya. Though the company does not have current plans to sell the Graham doll, this is another example of Barbie™ trying to send positive messages about body positivity and inclusivity to its young audience.
In a recent Instagram video post, Graham explains that every morning before starting her day she tells herself, "I am bold. I am brilliant. I am beautiful." Graham's unrelenting attitude to remain confident about her figure and love her body shape is an important example for girls and women today to be exposed to.
Feature Image: Mike Mozart Photo, Courtesy of Flickr