The annual Sister Cleophas Costello Lecture Series welcomed 22-year-old American Olympic gold medalist, Gabby Douglas, on Nov. 8, 2018. The anticipated event was organized by the Education Department in coordination with Mount St. Agnes College.
Margaret "Maggie" Schowyer Scally, president of the Mount St. Agnes Alumni Association, and Dr. Joshua Smith, head of the Education Department gave introductions to open the lecture. Douglas was selected as this year's speaker for the ideals that she shares with St. Cleophas, an early figure in Christianity, including the values of scholarship, leadership, and lifelong learning.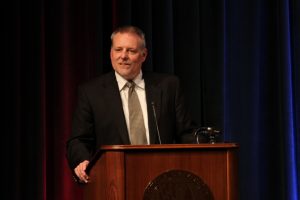 Douglas became the first African American woman to win an Olympic gold medal as the All-Around Individual Champion in the summer 2012 Olympics in London. The lecture was set in the style of a question and answer session in which Donna Woodruff, assistant vice president and director of Athletics at Loyola, asked questions about Douglas' life experiences as a gymnast, the influence family and community had on her motivation, and on any advice she had to offer young college students.
During the lecture, Douglas shared personal stories about both the hardships and struggles that her family endured during her childhood as well as her passion for gymnastics and how it has influenced her as a person.
Much of the conversation was centered around her life after she became famous and how social media has played an important role in how she perceives herself and her mission to help others. In addition, Douglas spoke to the difficulties she faced in a competitive and time-consuming sport that took time away from being with family and that caused her to move far away at a young age.
Douglas emphasized the importance of staying true to yourself despite the pressures placed by society—ideals that she also speaks to in her autobiography, "Gold, Grace, and Glory: My Leap of Faith."
"Never try to fit in with the crowd; just love yourself, because if you don't you will lose the best qualities that you have to offer," Douglas said.  
Douglas also spoke to the importance of balance, both in gymnastics and in academics. She also emphasized staying true to your values as a person. Douglas spoke to the difficulty that she has faced in balancing life after competitive gymnastics and in recognizing that the pressure of sports does not have to define your character.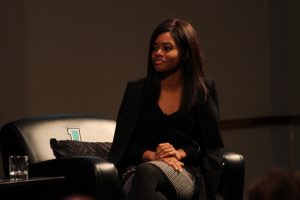 "Gymnastics is what you do—not who you are," she said.
Douglas also underlined the importance of service and giving back to the community in her life.  She supports several charities and organizes hospital visits each year. The lecture concluded with questions regarding Douglas' future aspirations after her professional career in gymnastics. She mentioned her interest in acting and noted that she has done a few pieces in different networks including a holiday movie for the Hallmark channel called "Love, of Course."
Douglas' message served to encourage listeners to dream and pursue their passions while remaining true to their values and morals. Her presence and lecture at Loyola was an exciting event for students, faculty, and members of the community.
Photos courtesy of Evan Visconti