Loyola's volleyball team is in the middle of their second round of Patriot League play. During the weekend of Oct. 27 and 28, the Hounds were up against American and Navy—the first and second seeds in the Patriot League. The American Eagles are undefeated while the Navy Midshipmen are in second with losses only to American.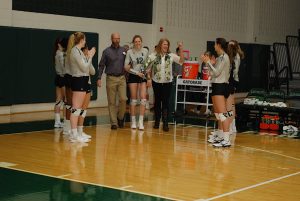 As they faced their hardest games of the year, the Hounds honored their three seniors in their last home game of the season. Haley Puddy, Molly Werts and Alisah Cash celebrated their four years of dedication to Loyola's volleyball program in a ceremony before the game against Navy
Together, the three seniors have combined for a total of 1,270 kills, 2,049 assists, and 1,111 digs. Not only are their stats impressive, but together they have helped to improve the program tremendously. Their freshman year, Loyola's conference record was a meek 1-15. Now, the Hounds are 6-6 and in fourth as they continue to battle for a spot in the Patriot League Championships.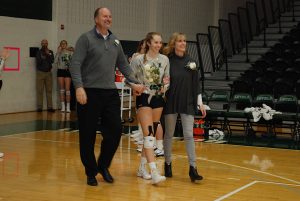 As the season draws to a close, the seniors reflect on what it has meant to be a part of the Loyola volleyball program for the past four years. "Being a part of Loyola volleyball for the last four years has created some of the best memories," Cash said.
Puddy said, "These past four years have been the best years of my life because of these girls. I will cherish every friendship and memory I had with them for the rest of my life."
The Hounds are 6-6 after a tight loss to American on the 27th. The Hounds were the underdogs, but that did not stop them from fighting until the end as they took American to five games, 14-25, 25-19, 18-25, 25-20 and then 13-15. The next day, the Hounds faced another tough fight against Navy. The Hounds fell in three, 23-25, 23-25, 22-25.
The Volleyball team will leave on Thursday for Boston for their games on Nov. 2 and 3 against Holy Cross and Army West Point, respectively.
Photos Courtesy of Loyola University Maryland Athletics