On Saturday, March 17, Loyola's Relay for Life covered the Evergreen campus in purple and transformed the Andrew White Student Center into "Relay Central" as they hosted their annual marathon event to raise funds and awareness for the American Cancer Society. This year's event lasted 9 hours – from 6pm to 3am –  and raised over $94,000.
There wasn't a dull moment during this year's 9-hour event, which featured round-the-clock activities in both Reitz Arena and McGuire Hall. Loyola's performing groups took turns entertaining participants throughout the evening with performances by the Belles, Chimes, Greysounds, and Gospel Choir.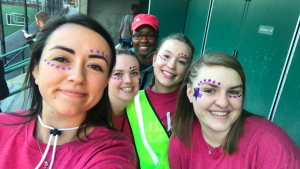 Loyola's Dance Team, Dance Company, and Irish Step Team also entertained the crowd on the floor of Reitz. Loyola's step team also took to the stage to perform and offer Relay participants a chance to learn some of their choreography.
This was the first Relay for Brian Channigan '21, who performed with both the Chimes and Gospel Choir and was "blown away entirely." Channigan said that he relayed for friends, one survivor, and one who had lost a battle with cancer.
"I thought that the speakers and [Luminaria Ceremony] were amazing with their stories and the way in which they paid respect to those [who lost their battles]." Channigan said. "Overall, I loved it. I loved the people there, the events, the set up, and especially the food."
Other activities such as Zumba, karaoke, Jeopardy, donation haircuts, and live Mario Kart also kept attendees busy throughout the night. Food was provided throughout the event by Loyola Dining as well as contributing caterers, such as Chick-Fil-A, Season's Pizza, Pizza Hut, Roland Park Bagels, and Insomnia Cookies.
Event chairs Madison Burns '19, Sophie Batchelder '19, and Jeff Gailius '19 headed the Relay committee for this year's event.
"For this year's event, we were really trying to focus on incorporating our theme of 'Passport to Hope' and  the idea of study abroad, in addition to more clubs and groups on campus," Burns said.
The event's theme of hope was prevalent throughout the night, especially during the Luminaria Ceremony, a time to honor loved ones who have battled or are battling cancer. Julia McBride '18 and JoJo Brame '18 shared personal testimonies of their experiences with cancer.
Relay leaders then asked participants to crack glow sticks representing their experience with cancer—whether that be through a parent, sibling, grandparent, friend, or another loved one. Participants then participated in a walk around Reitz in honor of cancer survivors and those who had lost their battles.
The Relay for Life event serves as a time for cancer survivors, caretakers, family members, and friends to come together and contribute to the American Cancer Society's pursuit of a cure. With an estimated 1,735,350 new cancer cases predicted for 2018, the American Cancer Society recognizes that cancer affects everyone. The Luminaria Ceremony, photo tribute, and other aspects of the event allow students and community members to express the reasons why they relay.
Relay executive member Leslie Huamash '19 says that she relays for her aunt and uncle, and expressed her feelings on this year's event: "I think it went well – I'm glad that the people who did come actually enjoyed it and stayed for a long time."
This year's relay faced multiple challenges, including having its date pushed up earlier in the semester and falling on St. Patrick's Day.
"We had to take all of that into account while planning the fundraising and events," Burns said. "Even though it presented itself as a challenge and we started the year off slow, I believe this year has taught us a lot about what we can do for the future and how we can make Relay for Life an even more successful event."
Senior advisors Elise Reumann '18, Ali Gavin '18, and Katie Ferrone '18 served as event chairs for last year's Relay, and they celebrated the success of this year's event.
"I think it was really good – super successful. I'm really proud of Madison and Jeff and how they put their event together. It was a little different than ours, a fresh vibe for the new people coming in," Reumann said.
While the event did face a few roadblocks this year, the success of Relay was felt by all participants.
"I am so proud of the event itself and it really put into perspective that the numbers aren't everything," Burns said. "[It's about] the experiences we have with each other as a committee and school interacting with cancer patients and survivors, in addition to other families and friends."
Burns summed up the goal of Loyola's Relay for Life in saying, "Relay for Life is [in part] about the money we make [for the American Cancer society], but it is more about the moments we share and how we support and inspire each other every day."