It's that time of the year, ladies and gentlemen! Oscar season is upon us, and as the buzz builds around the top performances and achievements in all of filmmaking, so does my love for movies in general. The appreciation of high-level cinema is only fair, as these creators spend years, maybe even decades on their projects that ultimately turn into Hollywood blockbusters. Filmmaking is a beautiful art form, and it will come to the forefront during this star-studded weekend.
On Sunday night at 8 p.m. EST, Jimmy Kimmel will host the ceremony for the second straight year, and will hopefully continue to fuel his ongoing "feud" with Matt Damon. But more importantly, there is much interest as to how Kimmel will approach his second straight hosting gig. With the massive social media movement of #MeToo at the forefront of the entertainment industry, it will be very intriguing to see how Kimmel implements the recent developments involving some of the most prominent figures in the film world into his opening monologue and throughout the night. For him, he simply hopes for the best picture announcement to reveal the actual winner, unlike the debacle that saw La La Land be ushered off the stage for Moonlight's cast and crew to take their place at the previous ceremony.
Below are predictions for some of the major categories during the 90th Academy Awards, and stay up to date with the Greyhound Twitter to see live updates and reactions during the entire show!
PREDICTIONS:
Key:
[S] = Should Win
[W] = Will Win

Best Picture
Call me by Your Name
Dunkirk
Lady Bird
The Post
Three Billboards Outside Ebbing, Missouri [S]
Darkest Hour
Get Out
Phantom Thread
The Shape of Water [W]
Martin McDonagh's (Three Billboards) unique depiction of a mother's commitment to justice and family is a breath of fresh air, but in the end, Academy is going to side with the interesting take on how communication, or lack thereof, can lead to true love in del Toro's moving film (The Shape of Water), which will secure his first Oscar win in his career.
Best Actor in a Leading Role:
Daniel Day-Lewis, Phantom Thread
Denzel Washington, Roman J. Israel, Esq.
Timothée Chalamet, Call Me by Your Name
Daniel Kaluuya, Get Out [S]
Gary Oldman, Darkest Hour [W]
Get Out is a revolutionary film, as Jordan Peele's direction and Kaluuya's breakout performance captured audiences around the world. Kuulaya was the better actor, but the timeless Gary Oldman will finally take home his first Best Actor accolade for his portrayal of Winston Churchill in Darkest Hour.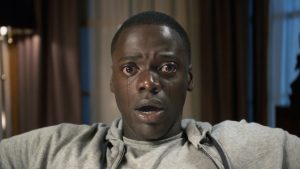 Best Actress in a Leading Role:
Frances McDormand, Three Billboards Outside Ebbing, Missouri [S] [W]
Meryl Streep, The Post
Saoirse Ronan, Lady Bird
Margot Robbie, I, Tonya
Sally Hawkins, The Shape of Water
This category is loaded with talent across the board, with Ronan and Robbie delivering memorable in their respective projects, but both McDormand and Hawkins stole the show this year. And for me, this was the hardest section to pick. Hawkins, despite not uttering a single word in The Shape of Water, was an inspirational character for all viewers. But after years of steady and solid performances, Frances McDormand will grab the title as the best actress of 2017.
Best Actor in a Supporting Role:
Christopher Plummer, All the Money in the World
Sam Rockwell, Three Billboards Outside Ebbing, Missouri [S] [W]
Woody Harrelson, Three Billboards Outside Ebbing, Missouri
Richard Jenkins, The Shape of Water
Willem Dafoe, The Florida Project
 Rockwell provided an ominous, funny, and an extremely compelling performance; whenever he was on the screen, all my attention was directed toward him. He deserves this win.
Best Actress in a Supporting Role:
Allison Janney, I, Tonya [W]
Lesley Manville, Phantom Thread
Octavia Spencer, The Shape of Water
Laurie Metcalf, Lady Bird [S]
Mary J. Blige, Mudbound
After seeing Lady Bird twice in five days, Laurie Metcalf's relatable depiction of a mother stuck with me even after leaving the theatre. Yet, Janney's fierce attitude in I, Tonya will win over the voters and give her the win with her first ever nomination.
Best Achievement in Directing:
Christopher Nolan, Dunkirk
Guillermo del Toro, The Shape of Water [W]
Paul Thomas Anderson, Phantom Thread
Greta Gerwig, Lady Bird
Jordan Peele, Get Out [S]
Jordan Peele's first feature film may be one of the most impressive debut projects ever released, as its artistic value and financial success were both astounding. But most importantly, it paved the way for other minority directors and filmmakers to challenge old Hollywood, and reinvent the meaning of the "horror-comedy" genre. Yet, del Toro's eye for intense and provocative visuals and his attention to beautiful plot details will allow him to edge out Peele in this category.
Best Original Screenplay
Get Out, Jordan Peele [S] [W]
The Big Sick, Kumail Nanjiani, Emily V. Gordon
Three Billboards Outside Ebbing, Missouri, Martin McDonagh
Lady Bird, Greta Gerwig
The Shape of Water, Guillermo del Toro, Vanessa Taylor
Even if Peele is not granted Best Director, he absolutely warrants a win in Best Original Screenplay. Everything in the movie was unexpected, avoided common horror cliché and traps, and left viewers thinking about its underlying message for longer than just the runtime.
I hope you all enjoy the annual night of celebrating and honoring the best in the film world, and let us know in the comments who you think should take home the coveted awards!
Photos courtesy of Penn State and Junaidrao