When the clock strikes midnight, people may be sleeping or playing Wordle, the world's newest online game that's created a lot of buzz.
Christian Sarian '23 is a finance major from Malvern, Pennsylvania. He describes how a little after midnight, his friends who are still awake play Wordle and send pictures of solving the word in a group chat. He said:
"Every night from midnight to around 12:15 a.m., my friends and I send proof into the group chat that we solved the word of the day. It's fun because it creates a sense of camaraderie and it gives us something to look forward to."
The goal of Wordle is to solve the daily word in six tries by typing in different words to gain clues. Gray or black squares indicate that a letter is not in the word, yellow squares indicate that a letter is in the word but not in the right slot, and green squares indicate that a letter is in the word and the right slot.
Josh Wardle, a software engineer living in Brooklyn, New York, created Wordle in October 2021 and it already has millions of users. Aisha Malik is a writer for TechCrunch and she has been following Wordle's growth in popularity. She said:
"On November 1st, 90 people played the game. Two months later, the game reached 300,000 users and now has millions of daily players."
There are many other popular online word games, such as Scrabble and Wordscapes. Maddie Kane '23 is a biology major from Shrewsbury, Massachusetts who has played various word games, and she believes that Wordle stands out from the rest.
"Wordle is different because it creates competition," Kane said.
Wordle has gone viral, and there are no signs of it losing popularity. Michael Bozzi is a full-time student-athlete at Cornell University from Newtown Square, Pennsylvania, and he agrees that Wordle has taken the online gaming world by storm.
"Wordle can be addicting because it is super easy to play," he said. "It requires very little instructions and people don't need to download an app or have an iPhone to play it."
An interesting component of Wordle is that there is only one word per day, and the reviews on this part of the game have been a mixed bag. Eddie Ronayne '23 is an accounting major from Springfield, Pennsylvania. He said:
"I like that it's only one word per day. I look forward to it each day as a challenge and I like to try to do it right away so it's not spoiled for me."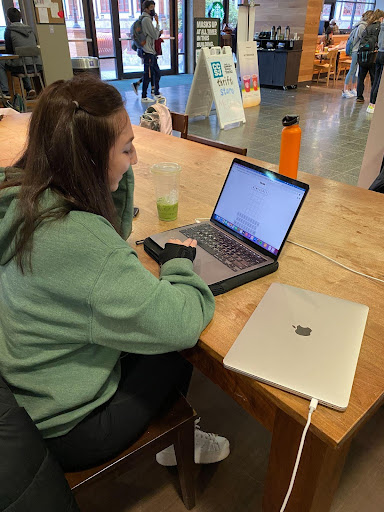 Bozzi is another proponent of having one word per day. He added, "I do like how it is one word per day because it allows me to look forward to it. I think this is a great strategy by Wordle because it does not allow users to get tired of playing the game."
On the other hand, Kane said:
"I wish there was more than one word per day, but I kind of like it, too [having one word per day] because of the competition. I do think some words are hard."
Playing Wordle requires the user to think and process many words at a time. Dr. Elizabeth Reid is a clinical psychologist living in New York City, and she thinks Wordle offers positive benefits for its users. She told The Greyhound:
"I think mind games like Wordle have a positive impact on people and they offer a nice mental break. There is an added benefit that it's only offered once per day."
Reid says that playing Wordle is healthy for the user's brain. She explained:
"We need to stimulate our cognitive networks and reinforce the neural pathways in order to make them stronger. With practice, we can process information more quickly, increase attention and improve memory."
Recently, Wordle changed ownership. Wardle sold his addicting word game to the New York Times on January 31, 2022. After acquiring Wordle, The New York Times said it "remains focused on becoming the essential subscription for every English-speaking person seeking to understand and engage with the world."
The New York Times acquisition of Wordle has received mixed reviews. Ronayne and Sarian are avid Wordle players, but they are skeptical about the change of ownership. They claim that The New York Times has made the game harder.
People cherish the few minutes per day they spend playing Wordle, and it has become a part of college students' lives.
"Last night, it only took me three tries to solve today's word: tease," Bozzi said. "I had the 'A' and the 'S' in the right spots, and then it just hit me that the word was 'tease.' I can't wait for tomorrow's word."
Featured Image courtesy of Jeffrey Bozzi