While typically the beginning of the Student Government Association (SGA) election season starts with candidates scouring Boulder for signatures to get on the ballot, this year is markedly different: similar to candidates around the country this November, campaigns have gone digital. Petitions for candidacy have circulated via Snapchat and text message, and campaigns are focused more on Instagram pages than flyers.
While the campaign kickoffs have been different, the matchup for Student Body President will be familiar to the junior class. Junior Class Co-Presidents Trevor Tormann '22 and Charlotte Flury '22 are teaming up with Senator Christian McNeill '22. Against the incumbent is Assembly Member (and former Class President) Bobby Portway '22, with VP candidates Sydnie Edwards '22, fellow assembly member, and Matthew Gheduzzi '23. This sets up a rematch of the Junior Class President election from last year, where Tormann ousted the two-term Class President Portway.
This time, they're not running alone. While Tormann and Flury ran on the same ticket for Junior Class President, McNeill is a newcomer. Tormann explained their pick, saying:
"Christian has been serving [as a] junior class senator this year as a Special Senator without voting power, and even without voting power in the fall, Christian brought about some really good changes to the SGA by-laws, and that is where our ticket is looking to make the most immediate changes in this upcoming year."
The TCC (Trevor, Christian, Charlotte) ticket is big on reform: in a written response, Tormann said:
"Both myself and my running-mate Christian McNeill have working knowledge of SGA by-laws and policy formation, we have been able to identify opportunities for organizational reform."
While McNeill is a sign of structural change for the TCC ticket, Portway's pick, Gheduzzi, is a sign of cultural change. When asked why he thought it would be helpful to bring a non-SGA member and sophomore onto his team, ONE Loyola, Portway said,
"I knew it would be a wildcard to bring in a sophomore. VPPA (Vice President of Policy and Advocacy) is all about long term things." He continued, "each administration comes in with their own goals, and then graduate, and there's no continuation. Matt being a sophomore gives us the opportunity to implement two year plans."
It doesn't just end at two year plans, though. Portway dug deeper:
"Being on SGA for three years, things work on SGA and things don't work on SGA, and particularly this year, things just started to get to the point where it was really toxic. It just got to this point where SGA got to be like a job, rather than a passion people were in, and so, I thought bringing in someone who has never been in the organization before gives us this fresh perspective that we kind of desperately need."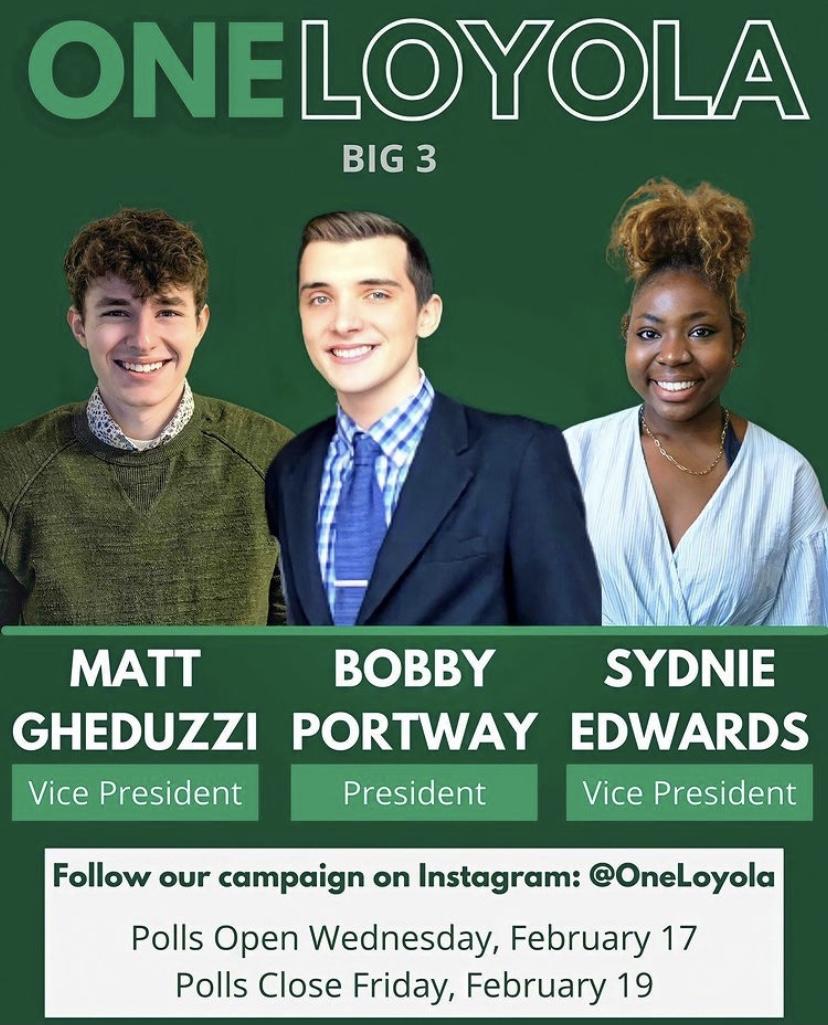 This past summer through just yesterday afternoon, Loyola students have been alerted to some strong truths exposed by the Do Better Campaign. Instagram post after Instagram post shared stories of those who have faced sexual abuse and harassment on and around campus. Each ticket intends to add a new position to the executive board to address this issue, specifically. Under a Tormann Administration, there would be a new Director of Gender Violence Prevention and Education, and under Portway, a Director of Student Well Being.
Beyond additional members on the executive board, Portway and Tormann made the different aims of the campaigns clear: cultural reform versus institutional reform.
Portway explained:
"It's clearly a culture, and a toxic one at that, that has been ingrained at Loyola for far too long. This is not only affecting our Loyola students, it's affecting our greater community. People shouldn't be scared to be a student here, people shouldn't be afraid to come here."
He continued, in writing, to explain a three-fold plan, focused on holding the administration accountable for believing survivors, using the Director of Student Well Being to work with the various administration offices implicated, and working with the Do Better Campaign to establish a better culture.
The TCC ticket's plan to address this issue, and their largest campaign plank, is the creation of a pass/fail option for victims of gender violence and those targeted by bias. They explained:
"It is plainly unfair and unjust for students at this university to be disrupted from completing their degree with satisfactory marks as a consequence of another student's violation of community standards."
The addition of a pass/no-credit option would be a big change for Loyola, as University administration has avoided this route in the past.
Another newly implemented idea under a Portway administration would be the "student council." The student council, while maintaining the same SGA model, would allow any Loyola student to join committees ran by the SGA as non-voting members. Portway described a cultural reason for this change: 
"SGA as an organization has historically been elitist and exclusionary in many ways. When we have elections, there are uncontested tickets. No one runs for positions. We have so many passionate people on this campus and people get involved in many different ways and I think we're really missing out on so many important voices and bringing those voices in is really important to me."
Tormann responded to this undertaking, describing the SGA's ability to already manage and address student voices:
"Their heart and minds are in the right place, however I am unclear on how this is not the same thing as the Student Government. In our organization, there are already executive committees. There's no cap, but the Director can recruit three to five non SGA student members to assist with policy. I'm just confused what change this will bring because I think it already exists in the SGA."
These are just a few of the issues I had the opportunity to talk with President Tormann and Assembly Member Portway about. For further reading on their written responses to some questions, you can find the TCC Campaign responses here, and the One Loyola Campaign responses here.
An issue both candidates can find some common ground on is the low voter turnout in SGA elections. Tormann put it clearly:
"For students asking, 'why should I participate in SGA elections?' When your student leaders have strong student support, they earn a mandate. And they can bring that mandate before University Administrators and be taken seriously. When student leaders don't have that support, they won't be taken as seriously."
So, in all of our best interests, go vote, Greyhounds. Here's how:
Keep an eye on HoundMail. Ballots will be distributed to Loyola students via email at 12pm on Wednesday, Feb. 17. 
Fill out and submit the form before Friday, Feb. 19 at 2pm. 
Keep up-to-date with SGA on social media (@loyolamdsga on Instagram) for election updates. Results to be announced at 4:30pm on Friday, Feb. 19. 
For additional policy information, follow both campaigns on Instagram at @tccloyolamdsga and @oneloyola. We'll also be keeping students updated at @thegreyhoundnews on Instagram. Stay tuned!