Sophia Riviello has no shortage of ambition. The Loyola senior and Jersey native studies psychology and photography. Conceivably, she's enthusiastic about mental health advocacy and expressing herself via Instagram and other forms of social media. Post graduation, Riviello plans to pursue her masters in clinical counseling, but not before serving with AmeriCorps. She's crossing her fingers for a placement in a city she speaks very highly of: Baltimore.

It was a combination of these interests and skills that allowed Riviello to make an impact within the Black Lives Matter movement over the last few months. Using only her Instagram platform and a Venmo account, Riviello took leadership within the Loyola community by raising a combined $5,150 for the Baltimore Action Legal Team and the Black Mental Health Alliance. Upon accumulating such a significant total donation, Riviello called upon Loyola's president, Rev. Brian F. Linnane S.J., to match his students' efforts.

Loyola students talk about their love for Baltimore, often. The feeling is rooted in myriad reasons, but regardless, Riviello intended to take these sentiments a step further. She asked students to "put their money where their mouths are" by stepping up in support of a city that so many refer to as "home."

"We're a mostly-white school in a Black city. And we all love to say we rep Baltimore, and we love Baltimore, but now Baltimore needs our help," she said. "Do something about it."

Riviello's first call to action was made in early June when she began asking, via Instagram's story feature, for Loyola students to help raise funds for the Baltimore Action Legal Team (BALT), a nonprofit providing legal support to Baltimore communities as they protest structural racism and economic inequality. Her process was simple: direct a donation to her Venmo, and she would provide a receipt once the money made its way to BALT.

Riviello was initially impressed by the idea of raising $100. But by the end of the first night of her initiative launch, there was already $1,800 in her Venmo account.

"Even though it is an affluent school, I'm very understanding that we are all still college kids living in a pandemic. But people were pulling $15s, $20s, people even donated $50. People donated $100. I was shocked," she said.

As her grassroots funding continued, Riviello provided consistent updates on her Instagram story and as shareable, permanent posts on her profile.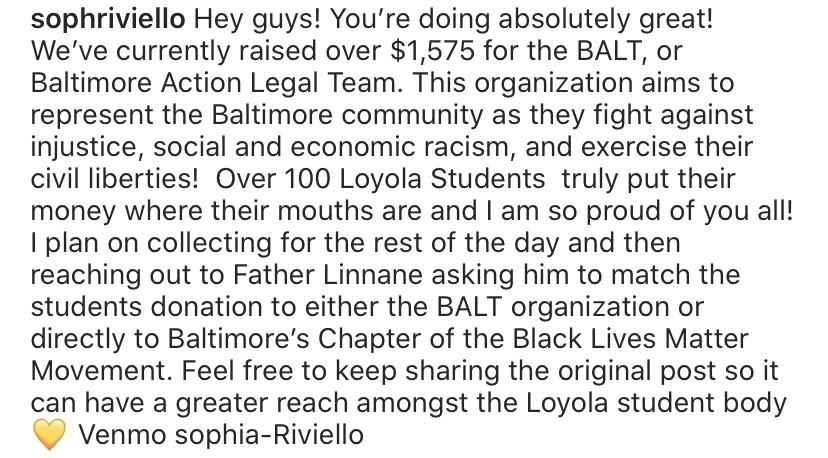 On June 5, Riviello posted the official $4,000 receipt after donating to BALT. The official documentation credits Loyola students and others who support the Black Lives Matter movement.

"The donation was made this morning in honor of Breonna Taylor. Today would have been her 27th birthday," she wrote in her Instagram post that day.

With so much momentum, Riviello still felt as though more could be done. In an effort to keep supporting the city, and in alignment with her love of mental health advocacy, Riviello began fundraising in the same fashion for the Black Mental Health Alliance (BMHA), a Baltimore-based organization working to provide educational forums, trainings, and referral services that support the wellbeing of the Black community and other vulnerable populations.

"I know right now that if any white person is feeling burned out, like okay, but imagine the pain that our Black friends, our Black educators, any Black person must be feeling so deeply, so [I was] just thinking that this is a resource they could really use," Riviello said. "And I know there's a big stigmatization of mental health in the Black community, especially in Baltimore, so this is near to my heart, and is something that everyone can get behind." 

When Riviello first came across the BMHA, she noticed that their GoFundMe had a $10,000 goal, but only about $8,000 raised in four years. As the Black Lives Matter movement gained momentum as the summer progressed, these numbers went up significantly: Riviello wanted to be a part of this increase.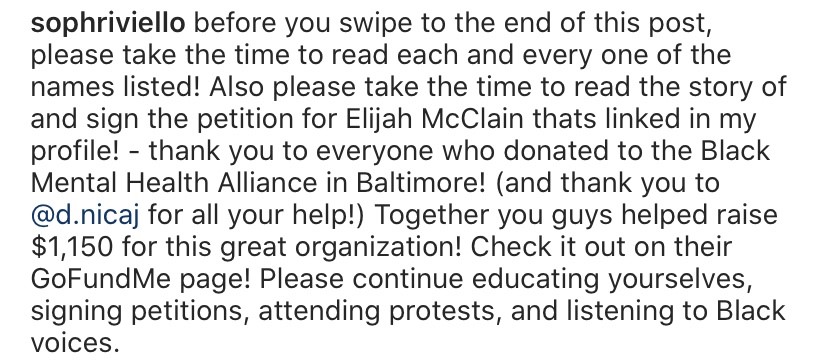 While fundraising itself took a lot of Riviello's focus this summer, so did her cognizance of being a white voice in the Black Lives Matter movement. As she moved forward with her efforts, Riviello grappled with balancing her identity to ensure that it never garnered more attention than the movement she was backing in the first place.

"I knew that my voice didn't need to be heard right now. I didn't want this centered around me or what I was doing, but at the same time I was like, okay, I need to use my privilege to address other white people and call them to action. So I was cautious of taking any time or energy away from the actual matter at hand," she said.

With $5,150 raised for BALT and the BMHA, Riviello consulted Black voices at Loyola before writing and sending her official proposition to have the amount matched by Linnane.

In a letter dated July 8, in which Riviello speaks on behalf of Loyola students in support of the Black Lives Matter movement, she outlined America's current social and political climate, in addition to explaining her method of collecting donations from the Loyola community.

In closing, Riviello said:

"We would like Loyola University to match our donation, and put it towards an organization that works towards uplifting the Black community of Baltimore. I have a list of over 200 Loyola students who donated and they are all eagerly awaiting your response."

Riviello also included the information for several Baltimore-based grassroots organizations in the address. Upon posting the letter to her Instagram, the young advocate received over 40 supportive responses in the comments section. The inevitable attention, though, isn't a factor in Riviello's desire to be a part of a larger change on campus and in the Baltimore community. In fact, confronting inequality isn't new to her: it's something she's been consciously working to do for much of her life.

"I've always tried to be like, outspoken, you know," Riviello said, in explaining her drive to speak up in the face of injustice. "Especially being a young woman, we have to use our voices because we have a voice, and it's important to use it towards people whose voices are probably being silenced and have been silenced."

About 3 weeks later, Riviello received a response from the president. In addition to opening with commendations regarding Riviello's initiative, Linnane outlined the work Loyola is already a part of that aligns with Riviello's request for more accountability and action. He said:

"When I read your letter, it occurred to me that you probably are not fully aware of all the ways Loyola supports people of color within Baltimore. As you move forward with your advocacy work and stand at the forefront of social justice, you will want to fully understand not just the cause you are supporting, but also the individuals and institutions you are approaching for financial support." 

Linnane further explained Loyola's connection with the Baltimore community, including their commitment to the schools of the city, in addition to the salaries of Jesuits employed by the University that, in part, support the "materially poor" of the area. Finally, Linnane cited the work of the Center for Community Service and Justice (CCSJ), highlighting their collaboration with multiple areas in the surrounding community. In closing, the president declined the request to match Riviello's efforts, noting that Loyola is "a charity itself."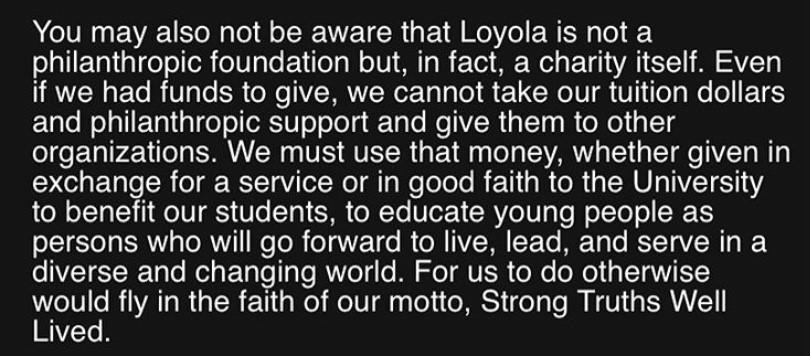 "I was disappointed," Riviello said, in response to Linnane's letter. "It came across as very patronizing as well as dismissive… I know what Loyola does for the community. The point of the letter was to say we not only need to do more, we need to do better. Loyola's motto is 'Go Forth and Set the World on Fire' and it felt like the flame we started was quickly stomped out."

Disappointment was tangible in the comments section of Riviello's ninth and final Instagram update for this specific initiative, many calling into question what it means when Loyola is described as a "charity."

Nonetheless, Riviello and other supporters of the Black Lives Matter movement at Loyola remain undeterred. In the face of racial unrest, a pandemic, and another 4 months of online classes, Riviello's plans are adapting accordingly— adapting, but not dwindling.

"Since classes are now online I've had to backtrack on any of my original plans that I had for this semester. I would've liked to get back on campus and conduct meetings with some of Loyola's higher-ups to discuss and demand more options for students wanting to aid the Baltimore community as well as advocate for the Black Lives Matter movement. I definitely have some contemplating to do," she said, reflecting on the past few months and considering what lies ahead.

Though she is without the luxury of in-person organizing, Riviello and other supporters of the Black Lives Matter movement at Loyola are continuing to find ways to "Go Forth and Set the World on Fire," even if it's from a distance. For more on members of the community committed to change, keep up-to-date with The Greyhound.