September isn't just the beginning of school and fall weather; it's also the biggest month for networks to launch brand new shows. This year is no different, and there are quite a few dramas generating a lot of buzz before their premieres.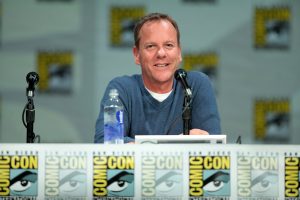 Perhaps creating the most noise is ABC's "Designated Survivor," a government drama which centers around the single member of the Cabinet who is isolated from the State of the Union address in case of disaster. When an explosion kills the President and the rest of the Cabinet members, Secretary of Housing and Urban Development, Tom Kirkman, (played by Kiefer Sutherland) finds himself immediately promoted to the role of President of the United States. Sutherland  returns to primetime to take the role of Kirkman after starring as counterterrorism agent Jack Bauer on the hit show "24."
"Notorious" is also set to premiere on ABC, and will star Piper Perabo as a powerful television producer Julia George who balances both a professional and personal relationship with a bigtime attorney Jake Gregorian (Daniel Sunjata). Together, they work in secret to control the headlines, subsequently creating the monsters and heroes on a major news show. This legal drama will air on ABC's popular Thursdays nights, sandwiched between producer Shonda Rhimes' hit shows"Grey's Anatomy" and "How to Get Away with Murder." From the looks of the trailer, "Notorious" has just the right amount of drama and manipulation to fit in with this already successful evening of television.
On FOX, "Pitch" has already caught the attention of many critics, as it is the first scripted television show whose production is officially affiliated with the Major League Baseball organization. The show focuses on a historical event that has yet to happen: the journey of San Diego Padres player Ginny Baker (played by Kylie Bunbury), the first woman pitcher in MLB history. While scripted shows and movies about baseball have aired before, it will be interesting to see how audiences and critics will receive this show, given its currently unexplored focus and storyline.
Premiering on NBC is "This is Us," which has been anticipated to pull on the same heartstrings that the widely popular show "Parenthood" did. The series documents the lives of various characters who were all born on the same day 32 years prior. This touching program will follow the lives and connections between a wide array of characters played by Mandy Moore, Milo Ventimiglia, and Sterling K. Brown.
Aside from the dramas, there are also a bunch of comedies set to premiere. "Speechless" (ABC), "American Housewife" (ABC), "The Good Place" (NBC), and "Man with a Plan" (CBS), which will be Matt LeBlanc's return to primetime, have all generated excitement. Be sure to tune in this fall to see which shows will become TVs next big thing and which shows will flop.