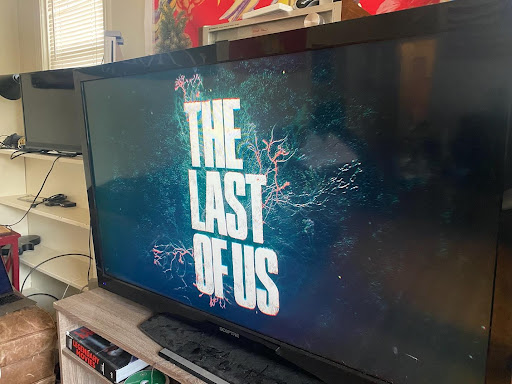 HBO's new hit show "The Last of Us" is quickly becoming one of television's most popular shows. An adaptation of the 2013 video game by the same name, "The Last of Us" takes viewers to a dystopian America where zombies cause mass mayhem and destruction. 
Averaging 29 million views per episode, according to Collider, "The Last of Us" is currently more popular than other hit shows from HBO such as "House of the Dragon" and "Euphoria." Zombie media has lost some mainstream popularity over the last several years but "The Last of Us" is bringing it back with its own unique take. 
"It's the best take on zombies I've seen," said James Buchino '23, a fan of both the game and show. "It doesn't feel like a cliche zombie universe. It's something more believable and immersive." 
The "Last of Us" focuses on two main characters, Joel and Ellie. Joel is a 56-year-old man just trying to survive this hell on earth. He is eventually tasked with safely escorting 14-year-old Ellie across the country because she just may be the key to the human race's survival. Dealing with zombies and hostile foes along the way, Joel and Ellie develop an unlikely relationship. This relationship is a highlight for many viewers and something people are looking forward to watching unfold. 
Brian MacDonald '23 said, "I'm excited to see the development of the relationship between Joel and Ellie. At first, she just seemed like a piece of cargo to him but now they kind of have a father and daughter bond and it's cool to see that grow."
Taking a close look at the human aspect of a zombie apocalypse is one of the ways "The Last of Us" creates the believable universe Buchino was referring to. 
Dylan Houle '23 said, "Compared to other zombie films and shows I've seen, 'The Last of Us' focuses more on the survivors and relationships with each other. There's a big emphasis on character development rather than just showing zombies kill people." 
Viewers unfamiliar with the video game, such as Houle and MacDonald, have the luxury of watching the story unfold without any real expectations. Those who have played the games, like Buchino, are closely comparing the adaptation to the beloved gaming series. 
"I think in the show the relationships can be kind of rushed, we don't really get to see everyone bond like in the game. It's more abrupt," said Buchino "It's such a great story, I just feel like the first time you experience something like this it can't be topped." 
Aside from just the story, there's more to enjoy in the new television series. 
Crystal Rivera '23, an employee for Greycomm Studios said, "From a production standpoint, I love the coloring they use to set the tone. They express a lot of emotion through color which is something HBO is very well known to do."
From character relationships to color theory to high-paced action sequences, "The Last of Us" has a little bit of everything for viewers to enjoy. 
The show's extreme popularity has already forced HBO and the video game developers, "Naughty Dog," to announce future projects. HBO recently confirmed a second season will begin development soon and cover the story from the second video game, while Naughty Dog is beginning to create a third installment in the gaming franchise. 
Featured Image Courtesy of Eli Falconer.