The newest student-run club, Table Top, is preparing for a semester's worth of tournaments and game nights at Loyola University Maryland. 
Table Top president, Jack Inman '24, says that the Table Top club started this past school year and is planning on hosting a series of game nights that is open to all Loyola students; the first event was held on Feb. 19, 2023. 
Inman said, "This semester, we're going to start doing weekly game nights. We just got a huge shipment of supplies in, and then those will be provided to people when they show up."
The club president said the Table Top club has about a hundred individuals on their sign-up sheet, all of whom have a common interest in board games – ranging from Dungeon & Dragons to Monopoly – along with a strong desire to meet new people with similar hobbies. 
Inman said, "We're not in high school anymore. It doesn't matter if people think you're weird. I used to think that D&D and stuff like that were for losers, and then over COVID, I played it with my friends online. It's actually so much fun. Now I'm playing it all the time. If you're interested at all, show up."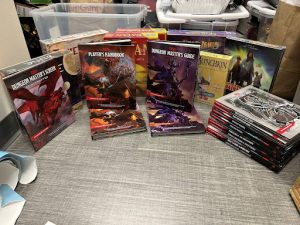 Inman said there are about 30 active individuals in the club, but hope to have more people show up to events, because of their new shipment of games and planning of in-person events. Inman was able to coordinate with Loyola and an employee at game store Game Scheme, located in Westchester, Pennsylvania, to get a new shipment of games for the Table Top club. 
Inman says, "So we wrote up a list, we had him appraise it, and then sent it to the school, and they approved it. It was about $800. He sent the games out, and we just got them in."  
Co-founder of Table Top club, Brian Coleman '24, said they founded this new club to give Loyola students a chance to interact with other like-minded individuals more on campus. 
"We came up with this club as a way for people to interact, so that way, people can reach out to like minds and find groups that would just kind of come together. The transition from COVID back to reality, it's really hard for people to connect again, so we try to give people the best opportunity to come together," Coleman said. 
Coleman said that the club's goal is to not only provide a chance for students to interact, but to also give club members an environment that is comfortable enough for them to bring their own games and lead their own events for others that might be interested. 
"It's cool because you're giving these people the opportunity to be a leader in a situation that they've never put themselves in before," Coleman said. 
The Table Top club plans to hold game events every Saturday evening on the third floor of McGuire Hall.
Featured Images Courtesy of Elle White.