Timing Loyola's Shuttle Service: Students Complain but Loyola's DOT Says System is Working Well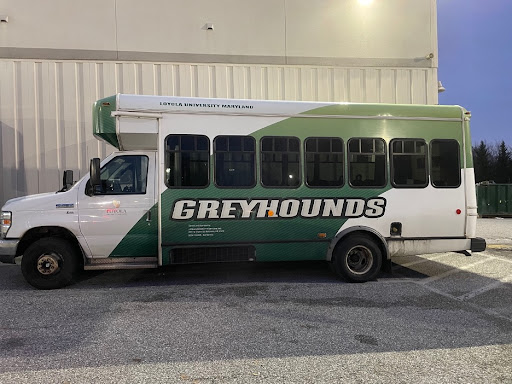 Tracking Loyola's Shuttle
Loyola students often complain about the on-campus shuttle service. Bri Santoianni '23, who lives in Aquinas, depends on the shuttle for rides to class. She finds the process of riding the shuttle extremely difficult.
"I think [the shuttles] are extremely unreliable, and either they're never there in the most urgent times or there are multiple shuttles at the same place at the same time," Santoianni said.
In response to complaints, I spent three hours over two separate days tracking shuttles across campus. I tested the schedule of shuttle arrivals at the FAC and shuttle stops on Westside and Eastside over varying periods of the day. I found the most significant issue to be the irregularity of the shuttles; while some would appear within 5 minutes, others would be twenty minutes apart. 
On Dec. 7 and 8, the buses at peak midday times at the FAC were primarily punctual with a slight variance, usually arriving within every five minutes. The Westside of campus was similar to the FAC in the regularity of shuttles. The first two shuttles I observed arrived within five minutes of each other, with the third coming seven minutes after the first two. 
Conversely, shuttles on the Eastside of campus were erratic and almost seemed to arrive at random. Over the hour that I spent at an Eastside shuttle stop, no shuttles arrived for the first 30 minutes, then two came within seven minutes of each other. Following that, there was another pause of 15 minutes before the shuttle appeared again, with another shuttle coming approximately two minutes later. 
In one notable instance, a shuttle arrived at Newman Towers, when on the map it was displayed at the Loyola Notre Dame Library. 
The following graph represents my findings.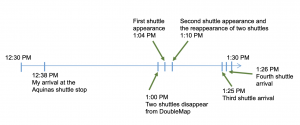 Loyola advertises that shuttles should arrive within 15 minutes of one another. However, this is not the only issue that students say is plaguing the system.
Another frequent issue is shuttles disappearing from the map. Throughout my research, this happened multiple times. For example, at exactly 1 P.M. on a busy school day, two shuttles disappeared from service according to DoubleMap, the digital map the Loyola shuttles use to display their location. 10 minutes later, these shuttles reappeared in a different location. Students said this can be problematic because they often commute to class at the last minute. 
"The DoubleMap service is also super inaccurate. Sometimes I will see a shuttle that is not on the map or vice versa. It says when a bus will generally show up, but not with any precision. There is no order as to when they will arrive. I can see the stop from my dorm, and I have often seen buses around during the off time, but they are gone at peak hours,"  Santoianni said.
DOT's Take: Occasional issues, not consistent problems
In response to these issues, Raymond Infussi, Director of Parking and Transportation Services, shed some light on transportation coordination and defended the current state of the shuttle system. Infussi believes that the issues are not inherent to DoubleMap, but rather an issue of student education.
"We've lobbied for years to get in front of freshman orientation and say the shuttles run here on campus, here is the app, and here is how you use it to change the narrative of the freshman class," Infussi said. 
Additionally, he concedes that occasional issues with the app or intermittent lagging are possible, but this is a hardware issue that occurs in GPS units, not a consistent problem. He consistently watches the live GPS output and is on standby to correct location issues that may arise. 
 He also explained that the transportation department is open to student feedback and wants to improve rider experience. A specific instance that he cited was the addition of a "going-out-of-service" notification that will let students know that a specific bus will be closed to passengers on its next loop. This was derived from the complaint of students that buses would appear as if they were approaching but would pass by and go to the depot for a break.  
Infussi disagrees with the common belief that the shuttles are lacking. He contends that the transportation department has accommodated student needs to the best of their ability. 
Student Driver's Perspective
Randi Little '23 is a Loyola student with a unique perspective on the whole situation. Little lives in Rahner and also is a shuttle driver. She defends the current state of the shuttle service. 
"When I leave at reliable times, there is always a shuttle [on Eastside] within 10 minutes. There is just a disconnect between the drivers and students," Little said.
She believes that hiring more drivers and the ability for students to communicate when they need rides would help improve the situation the most.
Students may not often think about the challenges of keeping a shuttle running, but most of the students that I spoke to said they would like to see some changes. Students said that the shuttle service is constantly unreliable, slow, and inefficient. 
"Living in Rahner is a lot farther than from the center of campus, and not being able to rely on a shuttle frustrates me and affects my schedule for the rest of my day," Sirena Winakor '23 said. Santoianni added that if there is no shuttle, she is forced to walk.
"During the winter or at night, it is very scary on the walk from Sellinger. It can be dark and there is often no one around." 
Featured Image Courtesy of Robert Handler.
Your donation will support the student journalists of Loyola University Maryland. Your contribution will allow us to purchase equipment and cover our annual website hosting costs.