The following represents the opinion of the student reporter and does not represent the views of Loyola University Maryland, the Greyhound, or Loyola University's Department of Communication.
The title says it all. Many students looking for an off-campus option for housing believe that The Social North Charles is their best option. But, after living there for seven months, I can safely say that the perks of living here are not worth the price. However, many students prefer to live off-campus for reasons such as not having to share a room with someone and, in some cases, lower room and board costs. These were undoubtedly some of the reasons why many other students and I decided to sign leases at The Social. 
Located at 3900 North Charles Street, the building is just under a mile away from campus, which makes it more convenient than other options for living off campus. The amenities that The Social advertises are enticing. They include a washer and dryer in the apartment, furniture, a game room, a theater, a gym, and a rooftop terrace and pool. The prices range from $1,400-$1,700 for studios, $1,750-$2,025 for single bedrooms, and with regard to the two and three bedroom apartments, you have the ability to rent a private bedroom for $1,050-$1,250 per month. One thing that was not evident upon moving to The Social was that Loyola had ended their contract with the building in September of the last semester. Therefore, campus police and, more importantly, shuttles are no longer permitted to go to The Social. 
When I reached out to Student Life, Brooke Herold, the program assistant, explained that during the height of the pandemic, residence halls on the east side of campus were converted to isolation spaces, leaving many students without housing. As a result, Loyola partnered with The Social to house students within the building. This was paired with the addition of shuttle lines and campus police patrols. Since the risk of Covid has lessened, Student Life decided it was unnecessary to continue having The Social as a sanctioned resident hall. 
But the decision was made without fanfare. Students were not informed directly that their contract was canceled. The only indication they had was that the option was removed from the Student Life website. However, many students did not look at the website, as Student Life would require that they share bedrooms with other students. So, residents like myself found out shuttles would not be coming to take them to campus when classes started last fall. 
However, some tried not to let that upset them and wanted to enjoy the benefits of their newly assigned apartments. 
"I like having my own room," Ava Thomas '24 said. "It is nice. We have a lot of room to move around."
While the rooms are indeed spacious, and it does feel amazing to have your own room, some of the apartments came with problems as soon as you moved in. In the case of my apartment, we paid for a washer and dryer. However, when we moved in, the washer and dryer were nowhere to be found, and neither was the plumbing for them. It took almost two months before everything was installed and working properly. In the case of Thomas' apartment, it was much different when they moved in.
"Our apartment was trashed before we moved in," she said. 
When they moved in, most of the furniture that was advertised was not there, and if the furniture was there, it was damaged. She said their apartment was dirty, the walls had to be repainted, and there was dust and debris everywhere. 
"It's just crazy that they didn't come into every single apartment and make sure it was clean," Thomas' roommate Grace Rapisarda '24 agreed. "They should be coming in and fully cleaning the apartment before new renters move in," she said. 
Unlike The Social, Loyola makes sure that their rooms on campus are cleaned and renovated for new students to move in. But, an issue that many students have with Loyola housing is parking. The Social has a surface lot in the back, as well as a two-level parking garage underneath the building. The parking garage offers single or tandem-style parking, as well as protection from the cold weather. It also was a secure way to store your car until early December, when someone crashed their car into the garage door. The garage door had to be removed and is inoperable. Since that event, there has been no garage door. The Social's management team last provided an update in the form of an email on Dec. 8, where they said that there was no time frame available as to when the situation would be remedied.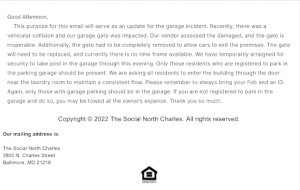 The email also included that security would be available for that evening alone. In January, Rapisarda said security wasn't there when she needed it to be there.

"My car got broken into," she said. "Someone broke into my car and stole cash out of my purse." 
Residents who park in the surface lot have to pay $120 a month for their designated spot. In the garage, a single parking spot is $145 a month, while a tandem spot is $175 a month. Thomas said that parking still remains an issue.
"We pay for a safe garage, and it's not secure," Thomas said. 
To make matters worse, during the first week of February, the building had an issue with its water system, and the lower level of the garage flooded. Residents who parked down there were either forced to park on the street or in the building's very limited "future residents only" spots in the surface lot. These spots are reserved for people inquiring about leasing or who have not been assigned a spot yet. Those who chose to continue to park in their flooded spots had to walk through the water to get to the exit. This was not the first time the garage had flooded either. 
In the past four months, the water in the building has been shut off four times. The initial shut-off was on Oct. 7. Residents were informed via an email that explained to them that a vendor was on-site to do "necessary repairs on our piping infrastructure." Four days later, the water shut off again for another problem of unknown relation. Then, on Jan. 7, the water was shut off due to a pipe owned by Baltimore City. Finally, on Feb. 2, the water was shut off again, this time related to the garage flooding. Just from the number of emails about these concerns, residents have come to expect the water to be shut off routinely. 
"It's too inconsistent for how much we pay," Michael Scerbo '23 said regarding the water issues. 
These are just some of the issues that have plagued the building. Other issues include frequently broken elevators, electrical problems, and, worst of all, a broken trash compactor. The trash compactor was out of service for many weeks, causing a foul stench that was very pungent in the stairwell and first floor. With these points in mind, the question remains: What are the alternatives to off-campus living?
While The Social North Charles may seem appealing to some students on campus, it is clear that living there is not all that it is chalked up to be. The problems, for me, seem to outweigh the benefits, and based on the state of the building over the past several months, I will not recommend Loyola students live there. I reached out to the Social North Charles, and they wrote to me, "The Social can not comment at this time."
If the managerial staff can improve their efficiency in communicating issues, as well as solve problems that arise with maintenance issues in a timely and effective manner, then I would recommend that students live there. But until then, I would suggest checking out other apartment buildings in the area.
Featured Images Courtesy of Aidan Hunter.