Kicking Off Black History Month 2023 with Sweet Treats and Important Conversations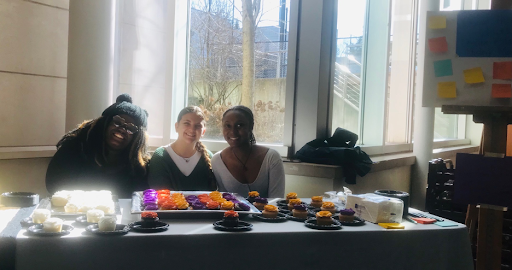 Necessary, resilient, empowering, powerful, impactful, incredible, relevant, exciting, long-lasting, remedial, and essential. These are just a handful of the words that Loyola's student body used to describe Black History Month. Every February since 1976, Black History Month has been known as a time of hope and celebration. It recognizes the progress that has been made in our country to combat racism while also realizing the work that is still needing to be done. 
To kick off the start of Black History Month, ALANA Services and the Karson Institute created an event called Cupcakes and Conversation, which was held in the Boulder Atrium on Feb. 1 from 11:00 a.m. to 1:00 p.m. As students made their way through Boulder, they were met with a large poster board, a table full of friendly faces, and of course, cupcakes. The students were asked to describe Black History Month using three words. When they had those words in mind, they would write each one on a sticky note and post it on the board. On their way out, they were invited to take a cupcake as a special treat. 
This event does not exactly revolve around a casual drive-by conversation with a sugary snack along the way. It marks the start of a new chapter in Black History and a chance for people to really think about its significance. There is a lot of intention behind the event, and Dr. Karsonya Wise Whitehead hopes that students will be able to see that. 
"I want to make sure that Black History Month becomes part of their thought process," Whitehead said. "This means we have to stop for a moment and think about the fact that we are launching Black History Month again in this country and whether we should be doing something different as a result of it."
The official founding of the Karson Institute for Race, Peace, and Social Justice took place two years ago at Loyola. Whitehead is the founder and also an Associate Professor of Communication and African and African American Studies at Loyola. She believes there is still so much room for discussion surrounding race, and that was her primary motivation for the creation of the Karson Institute. 
"I have always wanted to do something at Loyola that brings together scholars, activists, and students to think deeply about the questions about race, how we're thinking about race in this country, how peace can be used as a tool to bring communities together and about social justice and how we wrestle with social justice in this nation," Whitehead said. 
Niya Cyrus '23 helped work the table at the Cupcakes and Conversation event and initiated discussions with passing students. She believes Black History Month is not simply a month alone. It symbolizes a time for celebration as well as a time for continued progress. 
"Black History is ongoing, and that is something we should celebrate every single day.  There are a lot of things that are happening in today's history and in the past that really just show us that we've come a long way, but we also have really far to go," Cyrus said. 
The theme of Black History Month this year is "Black Resistance," and it is yet another chance to continue crucial discussions. Cyrus believes that bringing people together in unity and discussing the changes that need to be made in our country is ultimately the first step in producing real and lasting change.    
"Although these conversations can be hard and uncomfortable, they are worth having because, in the end, you can't make effective change unless you adjust those issues and shed light on what's going on."
Visit the websites for ALANA Services and the Karson Institute to learn more about the services they provide and their plans for Black History Month. 
Featured Image Courtesy of Michaela Chambers.