Showing Peace and Love to Ukraine on World College Radio Day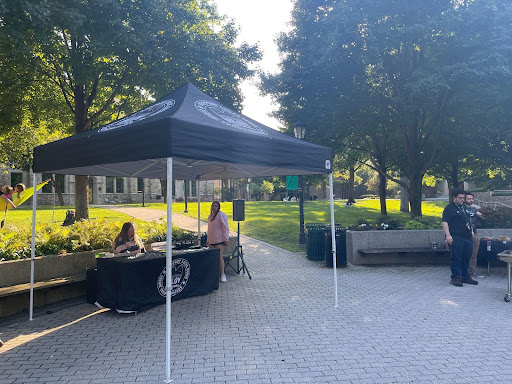 WLOY, Loyola's on-campus radio station, was one of 500 stations in 30 countries that participated in College Radio Day.
Aliyah Smith Bradley, the music director for WLOY radio, said, "World College Radio day happens every year on the first Friday of October. It's a time when all the world's colleges can notice that they are still making music because in this day and age, not many college students still listen to the radio because of streaming services such as Apple Music and Spotify."
This year's theme was "Voices for Peace" and was in support of the crisis in Ukraine. Since the beginning of 2022, over 7 million people have fled Ukraine to seek shelter from Russia's military attacks. There have been over 14,000 estimated casualties and the actual number is most likely higher. College radio stations all around the world took part in playing music and giving supportive messages of peace for Ukraine. 
When asked about the meaning behind the WLOY event, Business Manager Eddie Fine said that all college radio stations participating in College Radio Day are going by the same theme of peace.
Fine said, "We are recognizing the situation in Ukraine and encouraging people to fill in our WLOY radio stickers with the Ukrainian colors so that it is one unified thing." 
General Manager of WLOY Anna Markulis '23, said that the radio station goes beyond the Loyola campus and is an active part of the local community. Markulis stated that WLOY is student-run and it is important to them that they give back to the community. 
Markulis said, "We strive to support local artists in the Baltimore area and to serve the community."
She spoke about a program called "What Happens Next," where Markulis and others from WLOY station sit with children of local elementary schools to do a little radio show that the kids seem to enjoy. The focus is to have the kids pretend that they are on a radio show and come up with a story of their own.
Markulis said, "The most important thing to us is to support the community and uplift local artists."
Members of the WLOY staff not only gave insight into what the radio station does and the meaning behind World College Radio Day but also were handing out free smores. Their catchy message was to "Listen to s'more college radio." Bradley explained more about the music selection process and why college radio is so important. 
"In our station we have a bunch of music librarians, who are people who listen to the new music that gets sent to us which comes in the form of physical and digital copies, from different promos all around the world," Bradley said. "Then at the end, I listen to it again to make sure that it's really good. "
Bradley said that she is in charge of scheduling interviews with bands that the station likes, as well as trying to get concert tickets so that they can update the WLOY page with music that they are interested in. They have interviewed bands such as Fire in Elysium, Future Islands, and most recently, an interview was conducted with Vakili Band. 
WLOY will be hosting upcoming events such as a viewing of "The Rocky Horror Picture Show" on Halloween, Monday, Oct. 31. For more information, check out their website.
Featured Image Courtesy of Howard Wicker