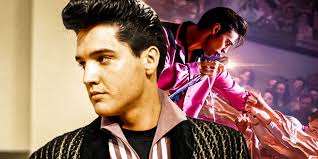 Baz Luhrmann's newest biopic, "Elvis," captivates the "King of Rock 'n Roll," Elvis Presley's rise to fame and successful career in a dazzling and entertaining way. The film focuses on the complicated relationship between Elvis, played by Austin Butler, and his manipulative manager and narrator Colonel Tom Parker, played by Tom Hanks.
"Elvis" is divided into three main parts, with each part concentrating on a different stage of Elvis' career. The first part of the film shows Elvis' transformation from a working-class citizen living in Memphis to a famous singer, actor, and sex symbol. His initial performances sparked great controversy because of his provocative dance moves. Colonel Parker saw the army as a solution to the controversy, and Elvis' time in the service serves as a transition into the second part of the film. In this part, the audience is introduced to his wife Priscilla, as well as his cousins and friends, collectively known as the "Memphis Mafia." 
The second part also shows a decline in Elvis' career. It also shows his comeback in 1968, which was filmed for television and known as the "'68 Comeback Special." The Comeback Special was a central part of the film, and it also further explored Elvis and the Colonel's relationship. This leads the audience into the third part of the film, which covers Elvis' career in the 1970s and his residency at the International Hotel in Las Vegas. During this time, Elvis expressed interest in touring worldwide, but the Colonel dissuaded him from traveling overseas. Elvis also was taking medications that ensured him to rest and perform well on stage. His use of medication, as well as numerous other health problems, led to his ultimate demise.
The first time I saw this film, I was immediately blown away by the incredible acting, especially Austin Butler's performance. He nailed everything about Elvis: his voice, his mannerisms, and his style of performing. It was almost eerie to watch because I felt as though I was watching the real Elvis. Tom Hanks' performance as the Colonel was also amazing; he really made me dislike the Colonel's character more and more as the movie went on. In the beginning, the Colonel seemed to be a person offering numerous opportunities for Elvis to grow his career, both in the music and film industries. As the film progressed, however, he exercised more and more control over Elvis' career, preventing him from going on tour overseas and convincing him to do a Las Vegas residency so he could gamble at the casino. Tom Hanks captured his manipulative character so well that, as an audience member, I became terrified of his character. 
Another noteworthy performance was Olivia DeJonge as Priscilla Presley. Even though Priscilla was in very few scenes throughout the movie, she was there during many pivotal moments in Elvis' career and helped him to make important decisions. There were many heart-wrenching scenes between Elvis and Priscilla that showed their relationship, and DeJonge and Butler's performances in these scenes were sad to watch.
Another aspect of the film that I loved were the costumes. As I was watching the movie, I kept thinking about how much attention to detail went into these costumes to make them super accurate to what Elvis actually wore. I particularly loved his later styles, especially the black leather jumpsuit he wore during the '68 Comeback Special. Priscilla's wardrobe was equally stunning, and her costumes really showcased the real Priscilla's iconic sense of style. 
Elvis was famous for his music, and the film included many of his most popular songs, such as "Can't Help Falling in Love" and "Hound Dog." They also included many contemporary artists on the soundtrack like Tame Impala and Doja Cat, who took Elvis' music and put a modern twist to it with the songs "Edge of Reality" and "Vegas," respectively. I liked the film's inclusion of modernized Elvis music and newer artists; it gave an insight into his influence on musical sounds and styles and helped engage younger audiences as well. 
Before watching this movie, I never was a huge Elvis fan. Like many of us, I knew his most popular songs and that he was known as the "King of Rock n' Roll." Watching this film has taught me a great deal more about Elvis' life and career, and I have genuinely become a fan of his music. I have never watched any biopics before this one, but watching "Elvis" has piqued my interest in learning about the lives of other celebrities. "Elvis" is a fantastic tribute that has created a new generation of Elvis fans, and it shows his enormous impact on music and popular culture.
Featured Image courtesy of Screen Rant.