In a 2015 investigation entitled "The Counted", The Guardian reported that 62.7 percent of unarmed people killed by police were of minority racial origin. Black Americans make up 13 percent of the United States population, but they also comprise 39 percent of people killed by police fire while not attacking (FBI—Supplementary Homicide Report).
This is the context that "The Hate U Give" exists in. Adapted from the novel by Angie Thomas, which spent 50 weeks on the New York Times Young Adult best-seller list in 2017, "The Hate U Give" is Starr Carter's (Amandla Stenberg) story—her truth of what it means to be black in America.
The first glimpse of Starr is at 9 years old through the front window of her childhood home. She sits at her dining room table with her family having "the talk," a measure black parents must take to prepare their children for the reality that awaits them. While her father, Maverick (Russell Hornsby), tells his children to put their hands on the table like they would a dashboard, Tillman focuses on Starr's eyes as they fill with fear and resignation.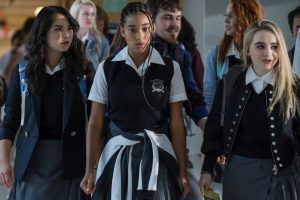 Seven years later, Starr is 16 and understands what it means to be from Garden Heights—the fictitious poor, mostly black neighborhood from which she hails. Yes, gang activity leaves the area on high alert at all times, but Garden Heights also comes to be a place of community and love. Early in the movie, Starr says, "Mama and Daddy says our life is here 'cause our people are here."
Although beautiful, Garden Heights fences its people by creating a stasis that breeds the violence and anger plaguing the community.
In an attempt to leap over this fence, Starr's parents send her and her siblings to an elite, mostly white private school on the other side of the tracks: Williamson Prep. Here, Starr must be what she calls the "Version 2" of herself: no slang, no reference to the neighborhood she goes home to every night, no reason for anyone to call her hood.
After she witnesses the police shooting of her childhood best friend, Starr Version 2 no longer feels right to her, and she fights to find some sense of justice in the wake of tragedy all while avoiding becoming the token violence-ridden, poor black girl in a sea of white affluence.
"The Hate U Give" could have easily slipped into superficial territory, focusing on Starr's relationship with her white boyfriend, Chris (K.J. Apa), or her less-than-impressive friends at Williamson. Tillman's movie rises above this though, transcending the expectations for the YA genre.
What he delivers is a raw, powerful story that pulls no punches when it comes to telling hard truths. Anchoring the film with likely the best performance of her career is Stenberg, giving Starr not only an intense ferocity, but also vulnerability, wit and joy. Stenberg creates a whole person out of Starr, who could step out of the screen and sit right next to you in the theater. With a lesser actress, this film would not work.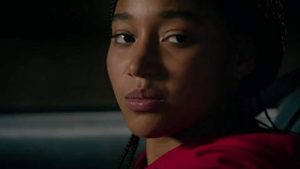 Screenwriter Audrey Wells' script demands an actress with extreme range; light and dark need to exist as one, intermingling to create the nuanced experience of a black teenager living in the contemporary United States. Stenberg delivers in spades. Backing her is Regina Hall playing her mother, who proves yet again that she is one of the most valuable working actresses today.
Hall could remain silent for the entire film, and it would still work—the whole story is in her eyes. Hornsby also gives a magnetic performance. It is through him that we understand why the Carters have stayed in Garden Heights: his pride for his home, love for his people and unwillingness to back down in the face of adversity runs deep through every scene he is in.
Most admirable about this film is its intent for everyone to feel seen. Wells' adapted screenplay gives voice to all perspectives, transforming the film into an active conversation about race in America. "The Hate U Give" should be mandatory of people of all shades; it speaks to what black people have known all too well and what white people need to know.
Much like the effect "Brokeback Mountain" had for gay audiences, "The Hate U Give" serves as a megaphone for the voiceless. The white characters are uncomfortable to have these conversations; Chris at one point utters the classic "I don't see color" line.
It is the nuance that Tillman provides that allows anyone, of any color, to see their part in this story. By doing so, Tillman lights a way forward for America as a whole—it will take all of us to truly evolve. This is the beauty of "The Hate U Give." It simultaneously speaks truth to power while forgiving ignorance and extending a hand for all to join on the journey for justice for all.