On Friday, September 7, ALANA (African, Latino, Asian, and Native American) Services welcomed its members back to campus with a block party on the quad. After the first week of classes ended, Loyola students gathered outside the Humanities building to reunite with their friends and experience the cuisine of  different cultures.
Founded in 1993, ALANA strives to educate the Loyola community about various cultures. Loyola's website lists the different organizations ALANA consists of, such as ALAS (Association of Latin American & Spanish students), Asian Cultural Alliance, BSA (Black Student Association), CSU (Caribbean Students Union), Diversity Peers Educators, and NASA (Native American Student Association). These groups target cultural programming, leadership development, retention, advocacy, and educational resources to give its members a more well-rounded view of other cultures.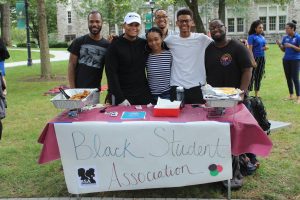 Each organization's table, decorated with colorful posters, stood amongst the crowd of students and served samplings of various ethnic foods. One of the clubs present was MOSAIC, the woman of color initiative on campus. The group's leader explained that the organization focuses on building sisterhood among the women on campus. They encourage and inspire the girls to speak openly about different social issues and self-care. For most of the members, MOSAIC has become a second home and a safe space to spread positivity and exchange ideas.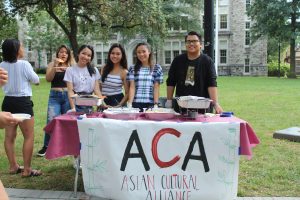 Another club at the block party was ASA, the African Student Association. The club's secretary, Adedolapo Adegbuyi '21 explained her personal experiences with her organization.  
"We want to connect the African continent with the American one, Adegbuyi said.
"Sometimes, people say, 'You're an American now. You're not African enough'—and that's not true. This club has helped me find a middle ground between my African self and my American self."
By building a strong community among Loyola's ethnic groups, ALANA hopes that its members will spread positive change even after leaving the Evergreen campus.
Any student of any race or ethnicity is welcome to join. For more information, visit the ALANA Services website.