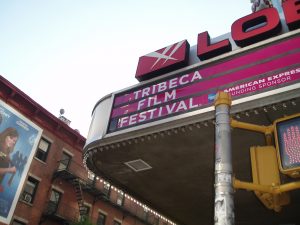 The 15th annual Tribeca Film Festival was held in New York City from April 13 to April 24. This festival featured over 100 different films, 77 of which were premieres. Special daily events, activities, panel discussions, and music were also included in the 11-day festival.
More than 100 films were featured; over 70 of those were short films, and 38 were projects that utilized immersion and technology for storytelling. Both U.S. and international filmmakers received awards, which were split into many categories of filmmaking: World Documentary, U.S. Narrative, New Narrative Director, the Storyscapes Award, and many more.
Top awards include best narrative film, international film, and documentary. The Founders Award for Best Narrative Feature, which includes a $20,000 prize, was awarded to the movie "Dean," directed by American artist, comedian, and writer Demetri Martin. The film "Junction 48," directed by Udi Aloni, won best picture in the category of International Narrative, and "Do Not Resist," directed by Craig Atkinson, won the documentary competition.
While many directors and filmmakers are drawn to this wide-scale event, young teens who aspire to work in the film industry are also given a moment in the spotlight at this gathering. The Tribeca Festival holds its Tribeca Film Fellows competition, which grants 20 adolescents the opportunity to develop their own projects with the help and mentorship of renowned directors at the festival.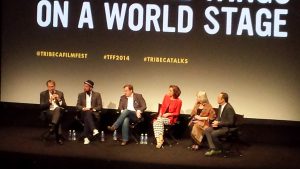 In addition to the films, screenings, and other events, the festival features Tribeca Talks, which consists of panels and commentary between directors and filmmakers about techniques, methods, the industry itself, and more. Some of the speakers this year included directors George Lucas and J.J. Abrams, comedian Stephen Colbert, and actress Idina Menzel. In addition, actresses Jane Fonda and Lily Tomlin, who play the main characters of the Netflix series "Grace and Frankie," spoke at the panel Tribeca Tune via pre-recorded interviews.
AT&T presented a new addition to this year's festival called "Storyscapes," featuring projects that use storytelling to showcase the struggles of society, such as racism and violence. "Storyscapes" seeks to explore deep topics through the use of digital media, film, and technology. Some films that were shown during the festival include "6×9: An Immersive Experience of Solitary Confinement," "The Argus Project," "Network Effect," and "Séances."
Sponsored and presented by AT&T, the Tribeca Film Festival promotes New York City as a major filmmaking center. Other sponsors include HBO, Coach, Netflix, Bira 91, Company 3, and Infor.
The festival, founded after 9/11, hoped to enliven the city of New York by creating a way to lift the spirits of its residents and to help the local economy as well. Since its debut in 2002, the Tribeca Film Festival has shown over 1,400 films.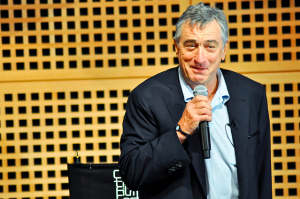 Tribeca Enterprises, a global media company, was established by Robert de Niro, Jane Rosenthal, and Craig Hatkoff in 2003. To broaden the audience for independent film and media, they have since then partnered with Tribeca Film Festival, Tribeca Film Festival International, Tribeca Cinemas, Tribeca Film, and Tribeca Flashpoint Media Arts Academy.
Because many people do not have the ability to go to New York for this festival, the Tribeca Company has created a way for audiences to live stream the main events and award ceremonies that take place. The festival has brought more attention to the importance of filmmaking in New York, and has helped the city's economy to flourish. The event brings people from all around the world together to enjoy the process and the production of filmmaking. All in all, the Tribeca Film Festival is a wonderful celebration of the art of filmmaking, and the attention it is gaining is well deserved.
Feature Image: Omar Chatriwala Photo, Courtesy of Flickr URL