Ghostbusters Gets a Makeover
It has been over 25 years since Bill Murray and Dan Aykroyd graced the big screen with their ghostbusting prowess, which is why many people were shocked to hear that a new "Ghostbusters" film is in production. What sets this reboot apart from the originals is the notably all-female cast, starring SNL regulars Kate McKinnon, Kristen Wiig, and Leslie Jones, alongside the unfailingly hilarious Melissa McCarthy. The movie looks to involve just as much reckless ghost fighting as in the previous films. However, it's not so much the movie that's getting everyone's attention, as is the strong feminine vibes coming from it.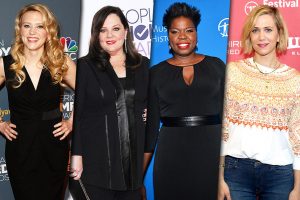 Before the trailer or even verified details of the movie were released, many men took to the Internet to express their strong distaste for "Bridesmaids" director Paul Feig's decision to film an all-female cast. Some people were unhappy that their idea of the original "Ghostbusters" was being ruined by introducing all women, while others noted that they didn't mind there being more female characters, but that a balance between the sexes would have been more appealing. The general consensus was that although people are "all for equal rights," they saw this new tactic to be Hollywood's way of simply trying to appeal to the masses.
On the flip side of this argument comes the positive feedback from many people who were beyond thrilled after the release of the first trailer earlier this month. Men and women alike shared their excitement for the new movie and its cast, paying more attention to the fact that the "Ghostbusters" franchise is very much still alive, and praising the funny women chosen to keep the legacy going. Kate McKinnon seems to have garnered the highest praise for her role due to her overtly sexual expressions and attractiveness. Meanwhile, some are unhappy with the fact that Leslie Jones, the only black cast member, is portrayed as an MTA worker without an advanced degree, unlike her white counterparts.
"Ghostbusters" original Dan Aykroyd spoke out about the all-female cast, showing his support for the women. " [My family is] delighted by this inheritance of the 'Ghostbusters' torch by these most magnificent women in comedy," said Aykroyd. Further adding that his "great grandfather, Dr. Sam Aykroyd, the original 'Ghostbuster,' was a man who empowered women in his day and this is a beautiful development in the legacy of [their] family business." Another member of the original cast, Ernie Hudson, was a bit less enthusiastic about the casting choices, only because he didn't believe that this new, radical change to the original movies would really be of interest to audiences, especially those who grew up watching them.
As with any film remake, there is bound to be feedback from faithful fans and regular moviegoers alike. It is rare to see movies being made today that entirely alter the genders of the original cast members, and in a time when feminism is spoken about so frequently and openly, "Ghostbusters" is sure to leave a mark on 21st century cinema.
Feature Image: Thoth God of Knowledge Photo, Courtesy of Flickr URL
Leave a Comment
Your donation will support the student journalists of Loyola University Maryland. Your contribution will allow us to purchase equipment and cover our annual website hosting costs.