This has been a big year for Loyola dining. It is full of achievements, changes, additions, and more, all to make eating on campus feel like you're eating at home.
Iggy's Market
While Loyola students know the dining halls, Iggy's and Boulder, for their macaroni and cheese, Sunday night wing bars, and friendly staff, the nation now knows them too—for a couple of other accolades.
In May, Iggy's Market, located on the west side of campus in Newman Towers, won a Bronze Award in the "Best Retail Marketplace" category from the National Association of College & University Food Service (NACUFS). Each year, schools from across the nation submit entries for their dining programs to be awarded a Loyal E. Horton Award, which celebrates "exemplary menus, presentations, special event planning, and new dining concepts, and provides an avenue for sharing ideas and creative presentations in campus dining services." This prestigious award is only given to the best collegiate foodservice providers.
What makes Iggy's Market so special is how it is a convenience store concept with both food stations and late-night options. The market also has a highlighted local food section, gluten-friendly and vegan choices, on-the-go options, and an onsite bakery.
Image courtesy of Loyola Dining

Image courtesy of Loyola Dining
The Iggy's Marketplace team sent in numerous photos and explained the customer service program "Create a Smile" for the entry. Judging criteria included menus and meals, facility design and merchandising, marketing, nutrition and wellness, and other considerations and "wow factors."
Whether it's seeing a friendly face at Iggy's that remembers your regular omelet order or making a one-stop-shop for a homestyle hot meal and to stock up your dorm with groceries and toiletries, Iggy's is a favorite among Loyola students.
Pastry Chef Receives Award
May was a big month for Loyola dining services as they received another award, but this time to the bakery. Pastry Chef Liz Canoles won a national Gold Loyal E. Horton Award in the "Local Foods Recipe Contest," hosted by the NACUFS, for her Tres Leche Cake. The cake was developed last year in the Loyola Bakery, and in order to participate in the contest, the baked goods needed to use three local vendors.
Image courtesy of Loyola Dining

Image courtesy of Loyola Dining
The Tres Leche Cake features Zeke's Coffee, Cloverland Farms Dairy, and Sauder's Eggs as their three ingredients.
Zeke's Coffee is a family-owned, small-batch coffee roastery in Baltimore offered on all dining locations on campus. The university worked with them on collaborating with students to create a signature blend roasted exclusively for Loyola called the Greyhound Grind. It was infused into the recipe.
Cloverland Farms Dairy was founded in Baltimore in 1919 with a horse and wagon and continues to produce local dairy products. Their dairy products are used and sold on campus and their heavy whipping cream was used in the recipe of the Tres Leche Cake.
Finally, Sauder's Eggs, originally a family-owned business in PA, has five production facilities including one in Hampstead, Maryland, and sourcing from over 120 farms. Their shell eggs were used to make the meringue in the cake.
Iggy's aims to purchase 20 percent of all purchasing from local vendors. The dining establishment aims to continuously raise that number and offer more local products on campus. Local themed menus in both Iggy's and Boulder are also done twice a year, as well as local specials during the year. Several vendor highlights also occur throughout the academic year where vendors come to campus to offer samples and talk about their products and local business.
The university also uses the hashtag #LUMLovesLocal to advertise local ingredients or local products offered on campus.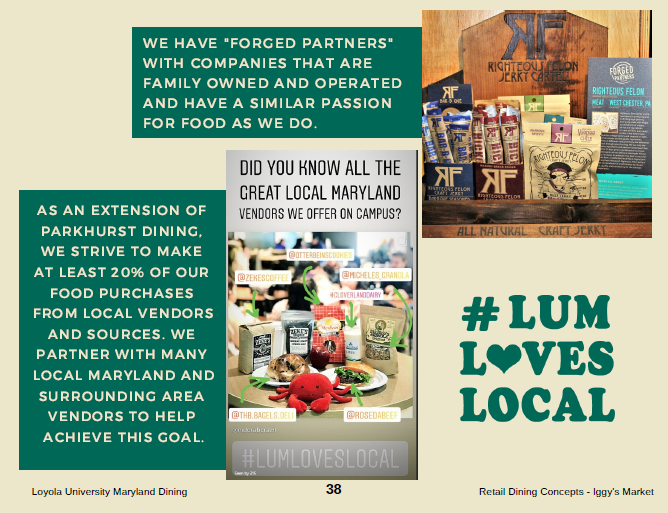 In honor of National Coffee Day on Sept. 29, the Tres Leche Cake was a featured dessert all over campus on Tuesday, Sept. 24 for students to try the award-winning cake.
Loyola dining staff traveled to Denver to receive each award.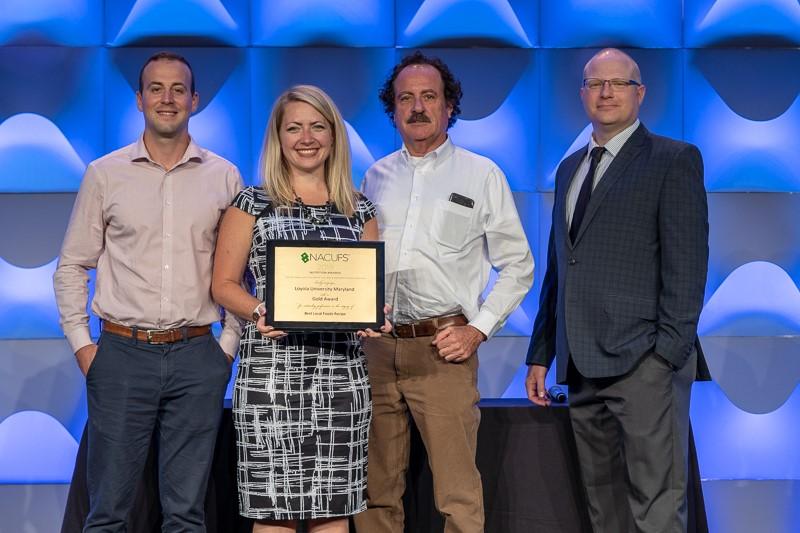 New Additions and Changes
Last academic year, the new food option Fresh West opened on the west side of campus in Newman Towers in what used to be Night Hound. Fresh West features smoothies, smoothie bowls, paninis, a trail mix bar, local Zeke's nitro cold brew coffee, and a wide variety of On-The-Go items. However, Fresh West closed at 4 pm, leaving the space not being used for the rest of the night. This fall, Fresh West became a duo-concept and in the evening will become Fresh West Sunset. Sunset features Latin inspired menu items such as burritos, tacos, taco salads, and more.
Fresh West Sunset uses a meal swipe under the Ideal Meal plan of an entree, two sides, dessert, and drink. There is also a trail mix station, soups, and chips and dips. Mexican Monday at Iggy's is no longer a part of the rotation as Fresh West has been implemented, however, this meal option is only available Monday through Friday.
Sous Chef Patrice Rickle researched ingredients that Chipotle used in order to create the perfect menu for Fresh West Sunset. Everything is made fresh, including the salsa.
"The response has been amazing so far with students lining up all the way into Iggy's waiting to come in. Our first week, we went through 360 pounds of just chicken in here," she said.
Fresh West Sunset is run exactly as Chipotle is. "We wanted to take key parts of Smoothie King into Fresh West and then key parts of the Chipotle business to Fresh West Sunset," Jon Bentz, the Director of Retail Dining said. "Rather than having students go all over the place for what they want, students can stay on campus and get the same quality here."
It is important to note that Fresh West Sunset opens at 5 pm and closes at 9:30 pm, a half-hour before and after Iggy's opens and closes.
Rather than rival Fresh West Sunset, Latin food option Taqueria in the Boulder Atrium was taken out and replaced with pasta option Crafted. After student feedback and polls, a pasta station was the winner.
At Crafted, students use meal points when they create their made-to-order pasta dishes. People can choose their pasta, sauce, protein, and any toppings. Everything is then sauteed together right in front of you. Each dish comes with a side of garlic bread and upgrading to a combo gets you a drink and side of your choice.
"We also have gluten options with zoodles and tofu for our vegetarian options," said Kevin Cubbler, the Director of Residental Dining. 
The reaction to the new pasta station has been great as well. "So far Crafted is $200 over what Taqueria made per week. Sales are always high at the start, but we hope they stay up," Cubblar said.
For students missing Taqueria, it is not completely gone. Every five weeks, Boulder will have a Taqueria station in place of Boulder BBQ, which was created last year. While it will not have everything that was on the menu, burrito bowls and tacos will be available for lunch and all you can eat dinner. This first opened up on Sept. 30.
All of the changes this year are a result of feedback from students last year. With more allergens and dietary restrictions on campus each coming year, dining services keep that in mind for each new menu, option, and product on campus. New allergen logos have rolled in this year, and the Allergen Friendly Zones have been revamped so menu items are free from top allergens. Resources have also been expanded.
In addition to adding 20 new staff members, flatbreads have been added to the regular menu after last year's success with Flatbread Friday. Vegetarian options and vegan options will rotate daily as well.
This year, Boulder is also hosting Meet the Chef tables on Wednesdays.
"We hope that this is a way students not only get to try some free samples from our chefs but also a way to get feedback and talk to students about dining," Lindsay Winn, the Marketing and Wellness Manager of Parkhurst Dining said. "We want to put a face to some of the behind the scenes work."
The themed days don't stop there. At Green Peel, located in the Boulder Atrium, there is now Milkshake Monday and every Tuesday in Boulder at the Bravo station, recipes from different regions around the world will be featured, giving students the ability to learn about the origin of different foods and indulge their hunger for new experiences.
While there have been many new additions, Fitwell Cafe at the FAC and the Sellinger On-the-Go Cart in the Sellinger School of Business have closed this year. Tapingo was also acquired by Grubhub, so Tapingo will be phasing out on campus over the next few months. On the Grubhub app, go to settings and select Campus Dining and search for Loyola University Maryland. Students get $2 off their first Grubhub on-campus pickup order with the coupon code CAMPUS. Meal plans, meal points, and Evergreen dollars are still supporting for on-campus locations.
The overall hope in all these changes and additions is to give students the best dining experience possible during their time at Loyola. How can you make your personal experience better? Reaching out.
"Don't be afraid to talk to managers or supervisors," Winn said. "We are here to improve the program and give students what they want. The more you tell us, the more we can do. It's all about the students."
To contact and give feedback to Loyola Dining, email [email protected].