After 4 long years, endless classes and amazing levels of growth, every senior on campus is preparing to take their last finals, graduate, and move on to what awaits them in their futures. Seniors from the class of 2018 Amy Swartz, Caroline Adrien and Jessica Grasso of the Loyola Belles are no exception. As a first year "Baby Belle" just beginning her journey through college life, I've had my own trials and tribulations in the past two semesters, but I've never been short of great role models to guide myself and the other Baby Belles along the path to happiness, great music and success in life.
Amy Swartz is the Belles' resident first soprano and musical theater star (think back to Spring Awakening in the Fall of 2017). Amy is always there to step in and be a leader for the group and is always one to encourage positivity and unconditional compassion. Not to mention, her arrangements are always amazing (Pretty Hurts from Fall 2017 anyone?).
Annie O'Donnell, '20, has grown quite fond of Amy over the past three years. "When I first became a Baby Belle, Amy really took me under her wing," wrote Annie when asked about their relationship. "From having curly hair to being first sopranos, it was clear that we had a lot in common and that she'd become one of my closest friends." As a Baby Belle, I have always felt the seniors warm welcome to the group, and Amy has always been someone I felt like I could go to with a concern. She gives so much energy and time to the group and I personally believe this adds to the success and talent of the Belles as a whole. After graduation, Amy will work to obtain a master's degree in Art History.
Another senior who will leave enormous shoes to fill is Caroline Adrien. As a second soprano with big laugh and an even bigger heart, Caroline always walks into practice with a smile and her staple phrase "Hi sweeties!" Both Caroline and Natalie Guerrisi, '19, her fellow second soprano singing an Ariana Grande solo this semester, are constantly giving grooving vibes during practice and adding so much texture and depth to the group.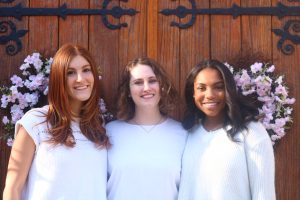 Alexis Alviggi, '19, will always remember her fondly. "Caroline reached out to me when I first entered the group," she explained. "She has worked tirelessly ever since to make sure I, along with everyone, feel welcome and accepted as a member of the group." Marleigh Tetreault, '21, recalls Caroline's infectious smile during every practice. "She can walk into any room and bring a smile to everyone's face. Her happy and goofy personality makes it hard to see her leave Loyola, but she is going to bring greatness everywhere she goes." Caroline looks ahead to a successful professional career in the area of Speech Pathology after graduate school.
Finally, the Belles wouldn't be the Belles without our fabulous president Jessica Grasso. Do we need a Google Doc for song suggestions for the set list? Ask Jess Grasso. Do we need someone to coordinate our pictures for this semester? Ask Jess Grasso. Jess is famous for her professional manner and is usually seen on a lunch date with fellow Belle Julia Stengel, '19. Along with the Belles Music Director Tiffany Haroutunian '19 (who is abroad in England this semester), Jess leads with example and always looks out for her fellow Belles. "Jess is like a mother to me; she always knows exactly what to say and has the kindest heart" writes Emma Crowley, '21, a Baby Belle who shares a close relationship with Jess.
Another Belle, Rachel Ferrara '20, tells how Jess "is an amazing leader and without her, Belles wouldn't be the successful group that it is." Jess looks forward to a job in her home state of New York after she graduates this May.
The senior Belles have always been there for their group, through thick and thin, better or worse. As their last Chordbusters approaches on April 27 and 28, they each look ahead to their futures while reflecting on their time at Loyola. They will be missed dearly, and the positive impact they had on the Belles will live on for years to come. Alexis Alviggi, '19, couldn't have said it better when she explained that "overall, these three women have matured beautifully over their four years at Loyola and have been excellent female role models to myself and my fellow Belles."