In a time where we are fighting for voices to be heard, there's no better way to get people to listen than through the power of music. That's why tonight, at 7:30, Fall Out Boy, G-Eazy, Bebe Rhexa, Lizzo and more will be coming together to headline Stay Amped: A Concert To End Gun Violence. The benefit concert, which is in support of the March for Our Lives the following day, will be taking place in Washington DC at the Anthem, where musicians and the masses will come together to stand for what they believe in.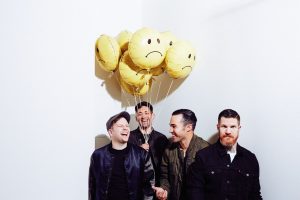 Fall Out Boy will not only be headlining the concert, but they have also recruited several other special guests for the show. "This is the time for action," said Pete Wentz, the bassist of Fall Out Boy, in a statement released about the event. "We need to support the Parkland teens and kids across the country. We have their backs, and we must demand our lawmakers do more to end this gun violence crisis." Fellow performers, such as G-Eazy and Lizzo echoed these statements in support of the Parkland survivors and the marchers across the country. In the hopes of bringing more awareness to Saturday's events, many more surprise guests, curated by Fall Out Boy, will perform to show support for the movement.
The concert is in partnership with the organizations Every Town for Gun Safety and Gabby Gifford's Courage to Fight Gun Violence, in support of the March for Our Lives which will be taking place tomorrow, March 24th. Proceeds from the concert will directly benefit both of those organizations in their fight for gun control.  Discounted tickets are available through Ticketfly at $50 with any valid student ID. Along with purchasing a ticket, concert goers have the opportunity to donate to Everytown right on the Ticketfly website.
Along with being able to purchase discounted student general admissions tickets, the Anthem is also giving tickets to student activists attending the march for Our Lives in Parkland and other sister marches across the country. For every Super Excellent Seat purchase, which are the balcony seats of the newly opened 6,000 seat venue at 901 Wharf St. SW, a ticket will be donated to student activists across the country. While the event does not begin until 7:30, doors will open an hour earlier at 6:30.  Currently there are 600 other marches scheduled throughout the country, all of which echo the same message.
We want change, and we want it now.