Last weekend, Loyola's Evergreen Players wrapped up their most recent production of Wendy Wasserstein's "The Heidi Chronicles," which ran from Feb. 22-25 in McManus Theatre. The play was directed by Julia Brandeberry, of the Graduate Program in Liberal Studies.
The play follows the life of Heidi Holland through various life events spanning from her high school days to her career as an art historian at Columbia. The show captures the history of second-wave feminism through a series of vignettes.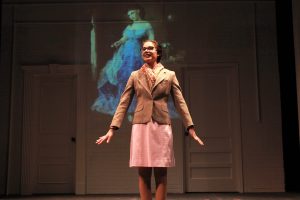 Heidi (Louise Pasciuto '18) struggles with finding her place amidst the growing social change of the late 20th century, particularly in women's movements. Along with her best friends Susan (Caitlin Dwinnell '20) and Peter (Matty Brown '20), Heidi navigates what it means to be a woman with a career in a time when men dominated the workforce.
The tension builds as Heidi meets the arrogant and suave Scoop (Richard Dixon '21), whose ambition rivals Heidi's. The show follows these four main characters over the course of their lives as they face issues of gender and ability.
"It's an interesting play that discusses the different ways feminism has looked over the years, which is really interesting and relevant," said McKayla Coyle '18, who photographed the play.
Coyle thought that it was an important production that entertains the audience while informing viewers about the reality of social issues.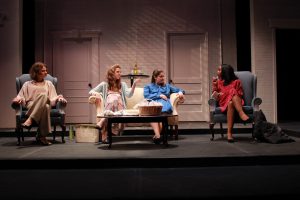 "It's important to have shows like this because they shed light on issues that women have faced in the past, and still face today," Coyle said. "The show educates the audience about feminism […] and also gives a historical lens."
The show manages to address social justice issues while still incorporating humor through the quirky characters that Heidi meets at an All Women's Rap Group in Ann Arbor, Michigan.
The humor, however, does not distract from the more poignant scenes in which Heidi struggles to achieve the same goals as her male counterparts.
Such is the charm of the show: "The Heidi Chronicles" delivers a message of social justice through dialogue rife with wit and sarcasm.
"As a gay man, Peter faces challenges like coming out and dealing with the AIDS crisis of the '80s, all while keeping his wit, charm, and sometimes cynicism," said Brown. "It's so important to have plays like this because it highlights characters that are too often dismissed or serve a narrative where they only lie on the sidelines."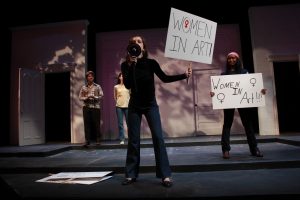 And lie on the sidelines Heidi does not. She fights to live in a world that accepts women as the intellectual and hardworking people they strive to be, all while finding her place within it.
"With a strong female lead and a nuanced/diverse cast of supporting identities, the Heidi Chronicles gives dimension to characters that are many times ignored," Brown said.
This diversity is only one of the elements that makes "The Heidi Chronicles" a truly compelling yet entertaining historical piece.