On Dec. 1 and 2, McManus Theater's seats were filled in fierce anticipation for one of the most talked about events on campus: Chordbusters, the a cappella spectacular featuring Loyola's very own Chimes and Belles.
The Chimes, campus' all-male group, performed what they called "an eclectic set complete with a Broadway song no one's ever heard of and a few songs only meant to be sung by prepubescent boys."
The 10 tunes sprawled from love songs like "I Won't Give Up," sung by duet partners Jason Marinelli '20 and Scott Johnson '21, and "Signed, Sealed, Delivered," sung by the group's soul man Andrew Muscarella '18, and even theatrical highlights like "Waving Through a Window" from "Dear Evan Hansen," sung by Chris Pfeltz '20.
Yet, it isn't just the soloists that made the performance pleasing.
"You really get to see how the voice is its own instrument and how essential each singer is to make a song sound great," audience member Marley Sheld '20 said.
If nothing else, the wide-ranging set's finale mashup of "It's Raining Men/Umbrella" cemented how a cappella can only be appreciated by looking at how well the group performs as a whole.
The Chimes' strong group dynamic is one of its hallmarks in entertaining audiences, from a hilarious opening skit to the strong chemistry established between the singers during the performances.
For newcomer to the group Johnny Macleay '21, the personality of each Chime helps to create that on-stage vibe the group is known for.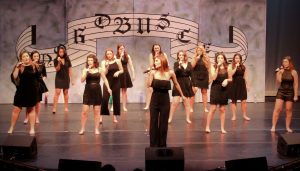 "Each member offers something so unique to the group that there is never a dull moment – whether it's Colin [Murphy, '18] doing magic tricks or Toni [Cerrone, '18] telling us to shut up and get our music together – the group just immediately felt like a family," Macleay said.
Next up were the Belles, campus' all-female group, who stepped up their game significantly this year. Alexis Alviggi '19 nailed a soulful rendition of  "Green Garden" and Ally Guerrisi '20 and Emma Crowley '21 performed an inspiring cover of  "Pretty Hurts." The group closed with a triumphant and resounding "Greedy," led by Grace Gautier '21.
"I think this year switching to wireless microphones brought Chordbusters to a whole new level because we could have choreography and move around a lot," returning Belle Annie O'Donnell '20 said. "And I think because of this, it was easier to really let loose and have fun."
That boosted energy was evident this year, with the Belles booming in confidence and showmanship.
"I think one of the most beautiful, but also most heartbreaking, things about Belles is that every semester we have a completely different group of people," O'Donnell said. "We always lose those who are going abroad or graduating and gain new faces and so every semester brings new challenges and new strengths to the group."
The current lineup worked for audience member Caitlin Dwinnell '20.
"Everyone was on their top game," she said. "[The] performances were moving and earnest."
This year, the Chimes and Belles solidified why Chordbusters is one of the campus' most anticipated and sought after events. If they continue in this upward trajectory, a seat in next semester's show should be the most coveted ticket of the spring.