Conversations around the Deferred Action for Childhood Arrivals (DACA), which allows minors who came to the U.S. illegally to be protected from immediate deportation and gives the opportunity for them to request consideration of deferred action for two years and can be renewed, have been spreading throughout campus, and many students are passionate about advocating against President Donald Trump's decision to end the program.
As of the last few months, the United States Government announced that DACA is ending. The U.S. Citizenship and Immigration Services website states the following:
We are no longer accepting initial or renewal requests for Deferred Action for Childhood Arrivals. We will consider DACA requests received from residents of the U.S. Virgin Islands and Puerto Rico on a case-by-case basis.
If you are a current DACA recipient and your still-valid Employment Authorization Document (EAD) has been lost, stolen or destroyed, you may request a replacement EAD by filing a new Form I-765 at any time, if the EAD is still valid.
We will no longer approve advance parole requests associated with DACA.
As conversations spread rapidly through campus around the topic, Loyola students were given the opportunity to come together to show their support and advocacy. On Oct. 11, Loyola students stopped outside Boulder to stand for and with our neighbors who are undocumented. Students signed a badge with their name saying, "My name is ____. I will stand for and with my neighbors who are undocumented." Many students wore this badge throughout the day.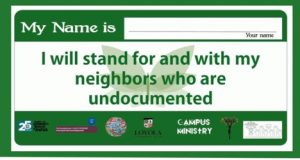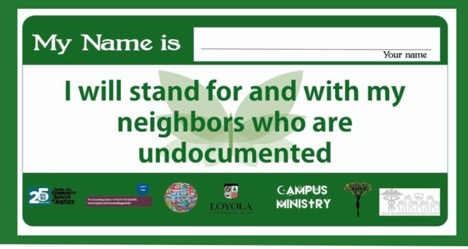 "It was encouraging to see such an important issue being advocated for in the Student Center as well as knowing that we have students here who are directly or indirectly affected by it," Michael DiBianca '18 said.
This event was a collaborated effort of a number of offices on campus including Campus Ministry, CCSJ, the Counseling Center, the Pre-Health Society, the Office of International Student Services, and Mosaic.
Other students were moved by the event, and were grateful to see a discussion about DACA being held on campus.
"DACA is such an important issue, and to gather with other students in conversation moved me," Nick Gervasi '20 said.
"As students of a Jesuit institution, it is our role to be persons possessing a faith that does justice," Kathleen DeGenarro '18 said. "Part of that role is recognizing this issue and taking care of other people who are experiencing a great amount of fear right now."