On the Sunday morning of Oct. 1, the pews of the Loyola Alumni Chapel were filled. Students, faculty, family, friends, and other members of the Loyola community were gathered for the memorial Mass of Jimi Patrick '20, who passed in July. It was a Mass filled with beautiful songs, scripture, and words. Jimi's family, close friends, and roommates sat in the front, next to where a photo of Jimi was displayed.
Those in attendance were there to "celebrate the transition into new life of one of Loyola's own, celebrate in joy and sorrow, and to mourn a life that was lost too soon" as said in the beginning of the mass.
Loyola President Fr. Brian Linnane presided over the Mass and shared kind words written by classmates. In the voice of those who wrote them, Fr. Linnane recited words such as: "Jimi Patrick was one of the kindest souls I have ever met"; "He helped us understand ourselves"; and "He was a selfless friend and a light."
Fr. Linnane spoke the words of St. Paul and how he tells us to have the same attitude and mind that Jesus had. "Jimi had that," Fr. Linnane said. "He had that same mind and love and Jesus would recognize him as a kindred soul."
He encouraged everyone to tell their stories, share the photos, go to their favorite places, and to most of all remember what Jimi taught them about practical love for one another.
"He is with the risen Lord, secure and at peace. Clothe yourselves with his compassion so that we can be true to this young teacher of 19 years," Fr. Linnane said. "Jimi, for his part, will be true to you by remembering you in his new life and praying for you. You belong to him—still."
The bringing of gifts was performed by the roommates and close friends of Jimi during his year at Loyola.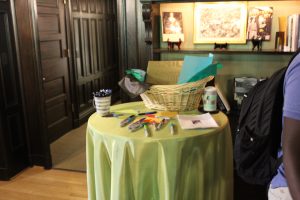 Director of Campus Ministry Seán Bray read aloud words prepared by Jimi's grandparents Richard and Sharon Patrick, who served as his guardians. In the emotional letter, the Patricks thanked everyone for attending and thanked the Loyola community for everything they had done for the Patrick family, including a vigil while the four boys were missing, a funeral Mass, the kind words in the media, and the memorial Mass. They thanked all those who came to their home and shared stories and for those who reached out through the phone or in letters.
"Jimi was the focus of our life for the past 19 years. We are so proud of him," they wrote. "He only attended Loyola for one year, but he made so many relationships and accomplishments. For this, we are grateful and we will always remember Loyola for what they have done. God bless you all."
Fr. Linnane closed the service by reinforcing the resources Loyola has for those who are experiencing grief and loss. He invited everyone there to a reception in the Humanities building after the service, where everyone could add memories to a book that will be given to the Patrick family, share memories talking with the Patricks, and even take a wristband dedicated to Jimi.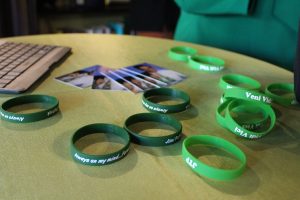 "We are a stronger community because of Jimi Patrick," Fr. Linnane said. "I can attest to the love the university, especially the Class of 2020, has for Jimi. He will always be a part of the Class of 2020 and of Loyola."