Thumbs up, Thumbs down 9/18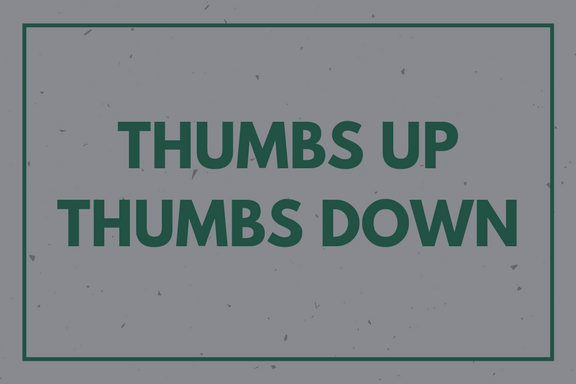 Another week past, another list of rants and praises from The Greyhound's editing board.
Here are the thumbs up and thumbs down from last week:
Thumbs up to last Tuesday night's movie on the Quad, where "Anchorman: The Legend of Ron Burgundy" was screened for all of Loyola to enjoy. I don't know how to put it, but it was kind of a big deal. As a major movie nerd, I am a huge fan of outdoor campus screenings on a nice night, and can't wait for there to be more, especially if we're talking comedies of the caliber of Anchorman. Now remember, more outdoor movies, and you stay classy, Loyola.
Thumbs down to the power surge that disconnected power to the big inflatable projector screen, causing the movie to cut off and the screen to deflate, nearly taking out two speakers on its way down. Not necessarily anyone's fault but something about that happening right as Veronice Corningstone was thrown into a bear pit at the San Diego zoo seemed fitting. Nevertheless, a movie about inept newsmen who end up in an alleyway duel complete with horses, swords, and a trident (where'd you get a trident) can never be ruined by technical difficulties.
Thumbs up to Senior 250s on Friday, which was a major success and the most fun Loyola sponsored event I have ever attended. The theme of groups and dynamic duos led to appearances from some seriously awesome and creative costume ideas from the Class of 2018 including some of my favorites like Old and New Taylor Swift, multiple iterations of the Super Mario Bros., a duo of washer and dryer machines, the Teletubbies, a whole squad of the founding fathers, and even a pair of "The Price is Right" contestants. The costumes were as ridiculous as they were fun!
Another Thumbs Up to Senior 250s for having a giant inflatable obstacle course race in the middle of Reitz Arena. As to why this was a necessary addition to the event, I have no idea. But it sure was hilarious witnessing a friends dressed ridiculously scramble up an inflatable hill, and sliding down only to run off to the full nacho and taco bar they had set up.
Thumbs Down, though, to the Senior 200s celebration being on Friday, Dec. 1. I may not have gotten the most stellar grades in math in high school, but I'm pretty sure that the Dec. 1 date is more more than 50 days away. Now I'm sure there's a perfectly good reason why this is the case, but this is my column and logic and reason isn't going to stop me from needlessly complaining about it.
Thumbs Up to Tuesday's activities fair, which saw the amazing clubs and organizations that Loyola has to offer present themselves to the new Class of 2021, showcasing the best of the best of Loyola! Big shout out to everyone who made it over to The Greyhound's table also, where you probably saw me incessantly throwing promo flyers into the faces of every and all passerby's.
Thumbs Down to the attendance at Saturday's Welcome Home Hounds event in the Quad, where there was everything from amazing live performances from local artists, to dunk tanks, to great FREE food. Everything except for students that is. What is it with Loyola students and the stigma against Loyola-sponsored events? Where's our campus spirit we all love to rant about? Free live music and food should be a no-brainer, guys.
Finally, Thumbs Up to the opening of the food stations in the brand new additions to Boulder! We got a Mediterranean salad bar now, a station for hot subs, and made-to-order eggs all day long. BUT, the thing I'm most excited for is the fact that the lines are gonna keep going down. Say it with me everyone, DOWN WITH LINES!
View Comments (3)