Loyola students represent 39 states and 30 countries, according to the Loyola website. Those from Florida, Puerto Rico, and the other southern states and Caribbean nations faced a difficult week, as Hurricane Irma hit the homes of their families, friends, and loved ones.
"For those few days before and during the storm, I could not stop thinking about my family and the house I had grown up in my entire life," Jacksonville, Fla. native Isabella Galler '20 said.
On Sept. 10, Hurricane Irma made landfall in Florida as a Category 4 hurricane. With the Keys taking an especially hard hit, the storm resulted in the largest evacuation in Florida's history. The storm left behind extreme damage to homes and property, historic flooding, and about 1.9  million people are without power as of Sept. 15. As of the time of publication, the death toll in the United States is 34.
"In some parts of Florida, houses were completely decimated, either by debris or flooding," Galler said.
By the time Irma hit Galler's home in Jacksonville, it had been downgraded to a tropical storm, when it was originally predicted to be a Category 5. Galler said while there was still devastating damage, as Jacksonville had historic flooding levels, power outages and uprooted trees, it was thankfully not as bad as it could have been.
As for Galler's family, they chose not to evacuate due to multiple bad experiences with doing so for past hurricanes.
"Thankfully, my house did not suffer much damage and my parents were okay during the entire ordeal," Galler said. "My friends and family are okay, but they still [as of Sept. 14] have not returned to either university or high school."
She said that while the damage in south Florida was worse than it was in Jacksonville that many of her friends' universities suffered extensive damage to the campuses.
Loyola economics professor Dr. Thomas Di Lorenzo was present for Hurricane Irma as he flew down to his vacation home in Delray Beach, which is about 20 miles north of Fort Lauderdale, Thursday, Sept. 7, to prepare the home for the storm. Because his return flight was canceled, he had to stay in Florida for the hurricane.
At his home, the power went out Sunday, Sept. 10, in the morning, but he used battery operated lamps and had a radio to listen to the minute-by-minute broadcast about the storm.
"Around four p.m., the radio guys were talking about 90 mph wind gusts and tornado sightings. They said one tornado was approaching my town at a speed of 90 mph," Di Lorenzo said.
To prepare, Di Lorenzo put metal hurricane shutters on his house's window and bought plenty of water and non-perishable food, like "good ol' peanut butter."
"Once you've done that all you can do is sit it out," he said.
While Di Lorenzo's home did not receive any damage, a lot of people lost roof shingles or entire roofs.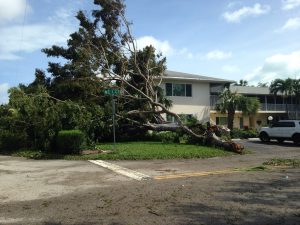 "The power was out everywhere with very dangerous downed power lines in the streets. Fallen trees and tree branches were everywhere, and it will take weeks to clean it all up," Di Lorenzo said.
For those whose family has been negatively affected by Hurricane Irma, and even Hurricane Harvey, the Counseling Center serves as a resource for emotional support.
"If you or your loved ones are affected by the storm[s] in any way, our thoughts and prayers are with you. Please let us know how we can help. We know this is an incredibly stressful time for many of you who are worried about your families, homes, and communities," the Counseling Center featured on their website. "We want you to know that the university is here to support you."