On Saturday, March 25, Loyola's Relay for Life held their 12-hour event from 3 p.m. to 3 a.m. in McGuire Hall and Reitz Arena. Relay for Life is a club on campus that raises money and awareness for those with cancer through the American Cancer Society (ACS).
There was never a dull moment throughout the 12-hour event, thanks to MCs "Terrymo" (Teresa Maureen '17) and "DJ Vossman" (Will Voss '17), who did a wonderful job of keeping the crowd entertained and excited about events and activities. There were so many events, different foods, and performances that showcased the talents and sense of community that Loyola promotes.
Food was available throughout the entire event and included Pei Wei, Insomnia Cookies, Zoe's Kitchen, bagels, chips, and sodas. Many clubs performed in both locations, including the Chimes, the Belles, the Greysounds, the Nevergreens, Gospel Choir, the Ukulele Club, Unleashed Step Team, student Zumba instructors, the Irish Step team, the Dance Company, and many others.
Many different activities kept participants busy, including card making for cancer patients, a scavenger hunt, raffles, battle of the bands, karaoke, minute to win it competitions, and a "know your sidekick" best friend trivia.
A main highlight of the night was during the Luminaria ceremony when two students, James McQuade '20 and Briana Cerami-Guarino '18, went on stage to tell their personal cancer stories and how cancer has impacted their lives as a survivor and a caregiver, respectively.
Afterwards, the crowd was invited to crack a glow stick if they have known anyone who is fighting or lost their battle with cancer. This united the crowd in the fact that every glow stick was lit.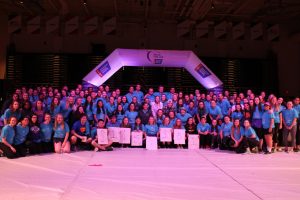 During the ceremony, Relay participants were invited to walk the track in remembrance of all those who are currently battling cancer and those who have lost their lives to this terrible disease. Throughout the walk, there was not a dry eye in the crowd and the love of the Loyola community brought students and families together as they were reminded of why people donate to and participate in Relay – to honor those we love and fight for more tomorrows.
"I thought that Relay for Life was very inspiring, [because] it showed the amount of effort and hope that people have and are willing to put towards such a great cause," McQuade said. "I am also glad that I gave a speech about my story because I feel that it was important to show that someone who was in such pain and difficult circumstances can continue to live a full and happy life."
The event ended with a closing ceremony led by sophomore co-chairs Jeff Gailius, Sophie Batchelder, and Madison Burns. They announced the total amount Loyola raised totaled $165,181. Although Relay is over, donations and fundraising towards the club's goal of $200,000 does not end until the summer. There will be several fundraisers until the end of the semester to help reach this goal.
This year's Relay for Life was led by event co-chairs Elise Reumann '18,  Allison Gavin '18, and Katie Ferrone '18. With a committee of over 200 students and over 30 leaders on the executive board, all Relay members worked hard to raise awareness and community involvement for the event.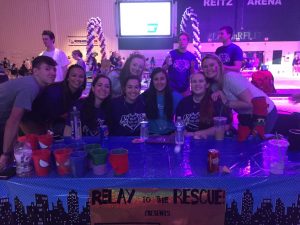 "Being event chair this year has been one of the most rewarding things I have ever experienced. Relay has led me to meet some of my best friends, roommates, and mentors, while also challenging me to become a better person, leader, and team member," Reumann said. "I am so grateful for this experience and for everyone who came out to the event and supported us throughout the year."
There are several committees that contributed to making Relay a success including the Sponsorship, Luminaria, Mission, Food, entertainment, and public relations Committees. Each member has a different task in contributing to every event, decoration, and promotion that Relay has.
The money raised from Relay goes to funding cancer research, free transportation for treatment, funding for Hope Lodge, which offers free room and dining for patients, a cancer hotline, and many other programs offered through ACS.
Many churches, communities, middle schools, high schools, and colleges are involved and participate in their own Relays across the country. Despite its many competitors, Loyola has managed to be one of the top fundraising teams in the country in the past few years.
"There is no type of inspiration like the one brought about by the unity of a community during a Relay for Life event," Batchelder said. "I Relay because I know that the work of Loyola's relay committee of 100+ students is creating a world full of more birthdays."
All Photos Courtesy of Michelle Mencia