Rokerthon broadcasts live from Loyola
Before the sun was up this morning, over 500 Loyola students started to gather on the quad. What could possibly get these young people out of bed so early on a Thursday morning? The answer is Rokerthon: Al Roker's five-day tour of college campuses looking to break new world records.
Roker started at the University of Oklahoma on Monday, then visited Northern Michigan University and the University of Tennessee, Knoxville on Tuesday and Wednesday. At each campus, Roker and the Today Show are broadcasting live to attempt to break various world records. Loyola's challenge? To have over 377 participants crab walk for two straight minutes. The record was previously set at 376 by Northeastern University in Boston.
The Quad was gated off for the event, and a line started forming around 4:45 a.m. to be a part of the action. Registration took place over this past week to make sure Loyola would have enough participants to break the record. Despite the early time and cool weather, Loyola showed up big, even having to close online registration when the 500 participant max was reached before the event.
By the end of the morning, Loyola earned its place in the Guinness Book of World Records: 494 of the 500 participants successfully completed the challenge, shattering the previous world record.
Loyola President Rev. Brian Linnane was excited to see so many students at the event.
"The fact that we maxed out on the number of kids who could actually do the crab walk is really impressive. It says a lot about our school spirit and pride in the institution," he said. "They want people to know that this is a very special place, and they're very excited to be here."
The amount of participants was even a shock to Roker, who is completing his third Rokerthon tour.
"You look out and see 500 kids ready to crab walk. That's pretty crazy," he said.
Setting up all 500 participants and getting them record-setting ready is a job Roker credits to the producers of the Today Show.
"I tend to not know what's going on out there," he said.
According to Roker, the producers are the ones running the show. While he waited in the Humanities building to go on live, the producers were outside with megaphones trying to organize 500 people into 10 different lines. Each line wore a different color shirt so there was some sense of organization for the Guinness Records stewards. The stewards walked up and down the lines to make sure no one touched their back side to the ground during the crab walk.
Roker's talent was put to use in the live shots as he spoke with students on the Quad. Every time he made an appearance, a roar of cheers and school spirit filled the campus.
Roker was surprised about Loyola's school spirit compared to the other universities he visited as part of his Rokerthon tour.
"It ranks pretty high. There's a lot of kids who are very excited, and not just the kids. We were in the dining hall yesterday and the dining hall staff was pumped up, so that really says a lot," he said.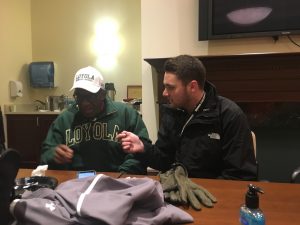 Father Linnane was also excited to have Roker and the NBC team visiting, as he believes it really shows Greyhound pride to the rest of America.
"I think it's an opportunity for the whole country to see how enthused and spirited our campus is, and how beautiful our campus is. I think it's an incredible opportunity. You couldn't buy this kind of publicity," he said.
The students and professors who attended Rokerthon were just as excited to be a part of the action.
"I'm having a wonderful time. We are hoping prospective students see it on TV and see what a great community we have here at Loyola," Theresa Alexander, a professor in the Speech Language Department, said.
The sense of community was truly remarkable throughout the event. Loyola's cheerleading squad, a cappella groups, dance team, and ukulele club were just some of the organizations that came together to make the event so special. Each also had the chance to perform live for Today Show viewers.
"I thought today was a very memorable day for Loyola. It was nice to have the school come together for such a fun event, and to be on the Today Show with Al Roker was unforgettable," Elizabeth Sandie '20, a cheerleader, said.
Adding to the excitement, two names were drawn from a hat to receive scholarships. Grace Slickland, '19 received the Rokerthon Pure Point financial scholarship for $5,000 dollars, and Emma Hagedorn, '20 received a $5,000 scholarship from Father Linnane to match it.
As Rokerthon came to a close, students returned to their usual week of classes. Although the morning started early, a heightened sense of Greyhound pride was still visible late into the day.
"The thing that these schools have in common is their incredible school spirit, and that's exciting to see," Roker said.
Rokerthon hits the road again tomorrow to finish its five-day tour. Loyola is now the proud owner of a new world record and some of the best school spirit in the nation.
View Comments (2)
Your donation will support the student journalists of Loyola University Maryland. Your contribution will allow us to purchase equipment and cover our annual website hosting costs.